Giuseppe Vitale – New York, 1924
$7,000.00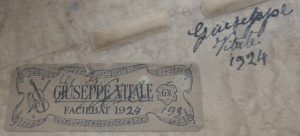 click picture to enlarge
Label:

GIUSEPPE VITALE (GV) logo
Faciebat 1924 No. 193
Beautiful handmade violin from the workshop of Giuseppe Vitale. Giuseppe grew up in Italy studying and performing on the violin. He immigrated to the United States as a violinist and once there became a self-taught maker. He remained in New York City his entire life playing and making instruments from the late 1800's up to his death in 1917. His son Edwin also made a few instruments but is mostly known for his bows that were branded Giuseppe Vitale. We have a fine violin signed Giuseppe Vitale 1924. The violin is a workshop instrument completed by the son or by journeymen working with the father. The violin is in excellent condition, barring one saddle split that has been repaired here in our workshop. The violin bears a label with a signature through the label as well as a signature with date just to the right of the label directly on the inside back of the violin. The table is of very fine two-piece vertical spruce and the back plate is highly figured, a quilted look. The curl in the maple neck pops. The varnish is an amber/brown on a golden ground and is consistent throughout the violin. The violin has deep channels close to the edges and beautiful workout around the sound holes.
Corpus 357.0 mm., Major Width 207.0 mm., Minor Width 169.0 mm., Rib Height 30.0 mm.
The violin has gutsy sound. Maybe a better word is bold. The bottom G and D strings ring strong and project. A strong sound that is also complimented by the A & E. The top strings are a Wow! too. They project and are very bold. The entire presence of the sound is masculine in nature. A violin that is full of power, great age, and workmanship.