Luthier & Owner
Violin maker and owner of J.R. Judd Violins, Williamsport, Pennsylvania. Jeff began his interest in violin making and restoration as a teenager. He was trained in the European tradition of violin making, working as an apprentice with luthier Richard Menzel in Livingston, New Jersey.
Mr. Judd began playing the violin when he was five and studied with violinists Iona Seigel, Mora Giannini, Fred Schmidt, Dr. John Maltese, and Francis Pittock. He also studied string bass with Henry Neubert. Mr. Judd has a B.M. in Music Education with an emphasis in voice and violin from Grove City College and an M.M. in Music Education with an emphasis in double bass from Ithaca College. Mr. Judd taught at the college level for three years and developed young string players for thirteen years in the Williamsport Area School District.
Jeff and his wife, Ann, reside in Williamsport, PA. Their older daughter, Julie, is married to Mr. William Bota, and their younger daughter, Jennie, is married to Eric Reyes.
Violin / Viola Repairs & Office Assistant
Jessica Kashetta does double duty for the violin shop, refurbishing instruments and working as office help. She is a graduate of Lycoming College with a music degree. She teaches private lessons in violin, viola, cello, and piano, and she plays viola in the Williamsport Symphony.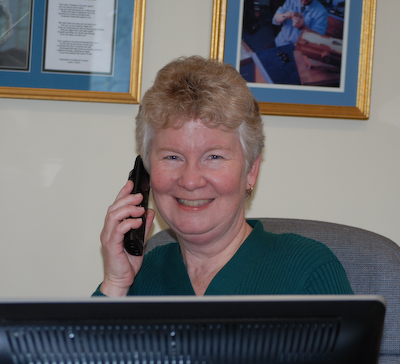 Receptionist
Valerie is a 1982 graduate of Westbrook College (Portland, ME) with a degree in Dental Hygiene and a 1985 graduate of the University of Southern ME with a degree in Education. She has worked as a dental hygienist in private practice and taught dental hygiene at the college level. Her 30 years in dentistry have polished her interpersonal skills.
She started piano lessons at age seven and continues to play as an adult. She also played clarinet in her high school band, and in her early adult years started playing the flute. She enjoys singing in church choirs and performing pieces for special music.
Aside from her love of music, she loves serving at her church, baking, gardening, and reading. Valerie and her husband, Mr. Lynn Knower, reside in Williamsport. Lynn is a librarian at a local college. Their daughter Rachel lives and works in Phoenix, AZ, and their son Phillip lives and works in Hartford, CT.
Valerie greets you as you enter the shop, answers the phone, and assists with all administrative duties.
Luthier, Cello & Bass Specialist
John grew up in Williamsport and started playing the bass in 5th grade. After attending Millersville University, where he studied string bass with Dominick Fiore, John apprenticed for three years at The Chimney's School of Violin Making in Boiling Springs, PA, then created Lantz Violins, Inc in 1997 in Bethlehem, PA.
John worked for AT&T Wireless Services in retail management and staffing for 18 years, but always continued building and restoring violins, his true passion. After leaving AT&T, John joined J.R. Judd Violins in November 2012 to work on cellos and basses.
Website Administrator & Ambassador of Smiles
Steve spends most of his time working on the shop website and is Adjunct Office Staff. Steve is known around the shop for his extensive knowledge of trivia and is also our unofficial Ambassador of Smiles.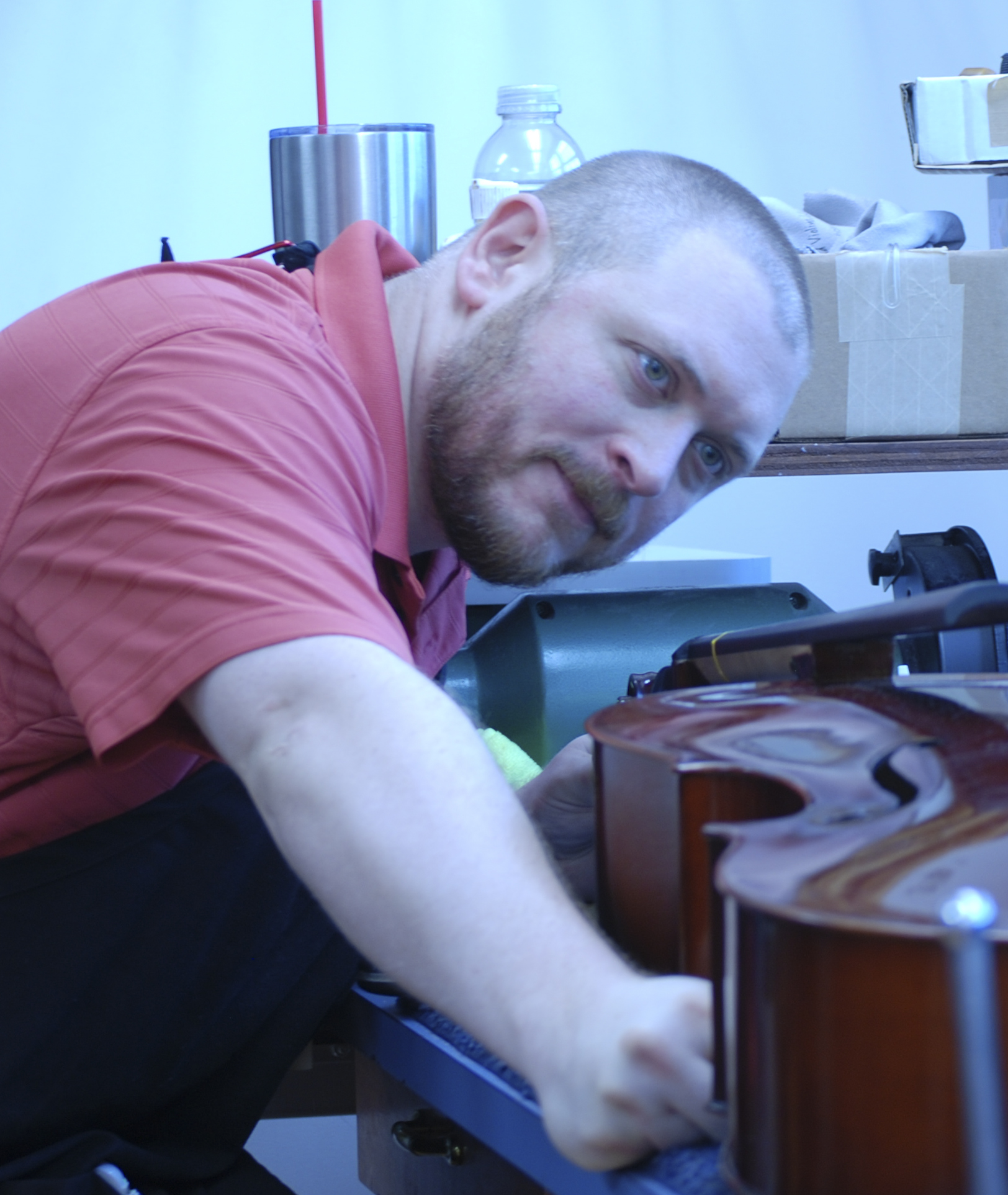 Cello Repair and School Delivery
You may meet Cody, who delivers instruments to schools, colleges, and universities all over the state and beyond. He has degrees from Pennsylvania College of Technology and Lock Haven University in General Studies, Physical Fitness Specialist, and Interdisciplinary Studies. He has also served as a United Methodist pastor. When Cody is not delivering instruments for the shop, he enjoys working with his hands on the rental fleet of instruments as well as spending time with his wife and two sons.
Manager of the Rental Program
Lindsay Shipman is a graduate of Bucknell University, where she earned a Bachelor of Arts Degree in Mathematics. Lindsay manages the Rental Program and assists with all things administrative in our office. You might see her at the front desk, talk to her on the phone, or hear from her via email.
Lindsay also enjoys tutoring math students, reading, baking, and being outdoors. She lives in Cogan Station with her husband, Jared.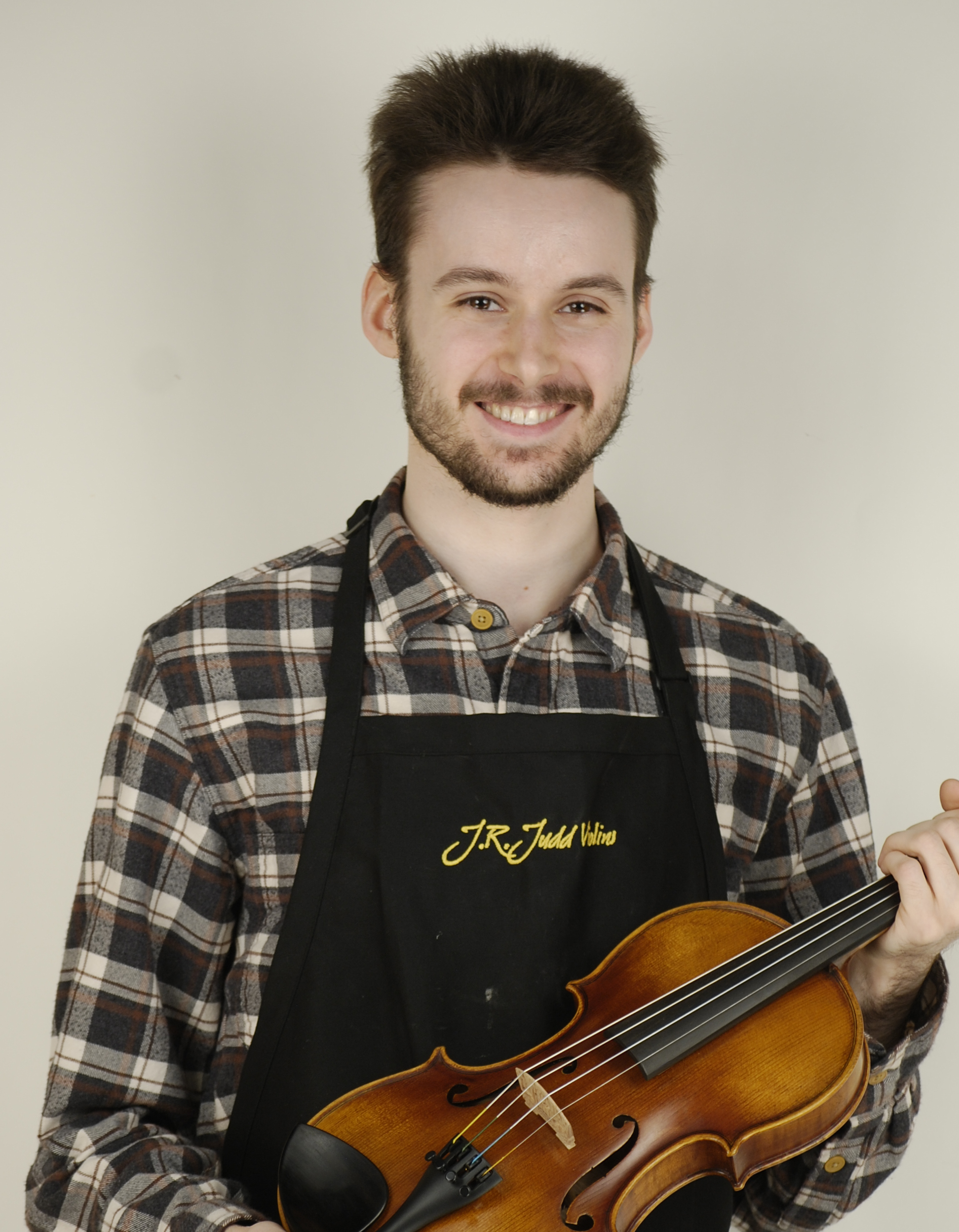 Bow and Instrument Repair
Originally from Lancaster, Ian is a graduate of Millersville University with a Bachelor of Arts in Geography with a concentration in Global Studies. At the shop, Ian works on bows, violins, and violas, and he is also one of the delivery drivers.