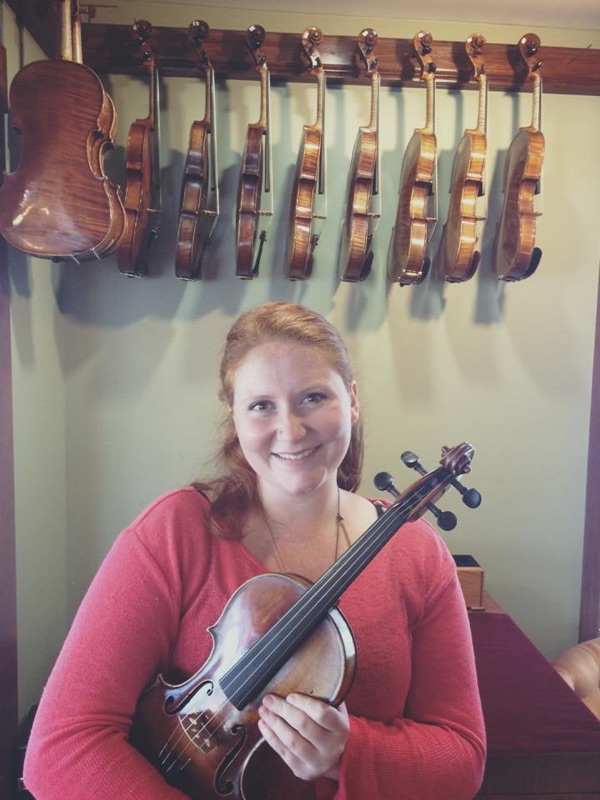 J. R. Judd Violins is pleased to introduce our new Sales Representative, Colleen Mahoney. Colleen is a recent graduate of Ithaca College with degrees in Violin Performance and Physics. She is excited to extend our well-known customer service to you!
Whether you are a professional player, college professor, graduate student, or advancing player, Colleen will bring our showroom to you. The process could not be easier; contact Colleen with the items of interest and she will schedule a personal appointment with you. You will have the opportunity to play the instruments and bows while taking advantage of Colleen's expertise to help you find the instrument or bow that is right for you. As always, our trial policy makes is possible to keep the items you chose for up to two weeks to aide your decision process. See our website for details on the trial policy.
We are thrilled to offer this new service and hope you will take advantage of it! To schedule an appointment or start the conversation, please contact Colleen at:
Colleen Mahoney
(570)980-4112
Or email:
sales@jrjuddviolins.com
When you call or visit the shop, our experienced staff will take the time to speak with you personally and guide you through the selection process of your new instrument or bow.
Customers are encouraged to take advantage of our one to two week trial policy before making a final decision.  If you are interested in trying instruments or bows, please see our TRIAL POLICY. Additionally, we offer a  trade-in policy for instruments purchased from J.R. Judd Violins in which the instrument's full value (minus a small restocking charge) can be traded in and credited toward a more expensive instrument.
We understand the importance of finding just the right instrument.  For this reason, we encourage customers to take their time when making a selection.  Spend a couple hours or the whole day, have a cup of coffee and enjoy the experience.