Thomas Perry, Dublin, Branded Cello Circa 1790 – 1800
$20,000.00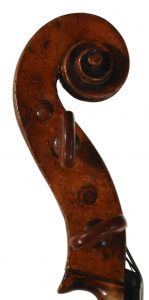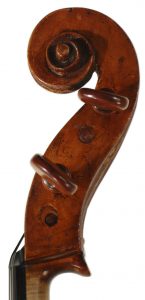 click picture to enlarge
This is a very nicely preserved cello from the best-known name in Irish luthiery, Thomas Perry (1744-1818). He followed in his father's profession as a violin maker beginning at age 16 and took over his dad's shop in 1766. At this time he also employed a few paid assistants who became famous makers in their own right: Richard Tobin, John Delaney, and Vincenzo Panormo. Perry worked independently until 1789 when he went into partnership with the man who later became his son-in-law, William Wilkinson. Perry made over 3000 violins, all numbered, a few viola d'amores, cithers, guitars, zithers, cellos, and possibly one double bass.
We believe our cello to have been made in the late 1790's, which is the sweet spot of Perry's best making years (1778-1808). It has a very attractive golden-amber varnish with just a hint of red highlights. The varnish displays the lovely patina and natural wear that comes from two-hundred years of play. The cello has a very faint brand below the crown of the back plate tongue- PERRY over DUBLIN and there is no paper label inside. The instrument is well-made and has the distinctive well-carved scroll and exaggerated sound holes which have a small opening at the top and a wide consistent stem through the diapason and a big widening lower turn. This unbalanced look gives the lower portion of the sound hole the appearance of a somewhat larger bottom to the higher end. The cello has a squarish (hippier) upper bout without the rounded or curved lines normally seen on Amati or Strad patterns; this squared look is indicative of the Perry style. Both top and back plates have a medium arch. As is typical of instruments of this age, many hours of restoration and repair are required to achieve a quality condition. We performed the following work: interior rib work, four new corners, six new spruce edges, bushing of all eight peg holes, and slightly turning and recalibrating the ninety-year-old boxwood pegs we received with the cello. A high-quality neck graft was done at some point before coming to our workshop.
Included with the cello are authentication certificates from the C. Woodcock Violin Shop of Brighton, England dated 1965 and the Violin House of Weaver of Washington, D.C. dated 1980.