Marc Laberte – French Violin, circa 1935-1940 – Great Sound & Easy to Play!
$6,000.00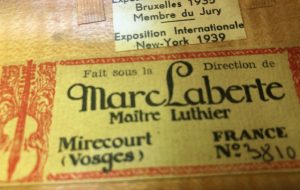 click picture to enlarge
These instruments are very hard to track down, especially in this condition. We have a French violin made in the Marc Laberte Ateliers, Mirecourt. Marc (1880 –1963) was trained as a violin maker by his already famous family and by 1911 Laberte played an active role in the company. By 1919 the Laberte firm had grown to roughly 400 craftsman and enjoyed great success making high quality instruments. By 1942 the ravages of war destroyed almost all of France and its people. It also dealt a huge blow to the violin shops in Mirecourt. The Laberte firm had all its tools and machinery stolen, which decimated the firm. By late 1944 the company tried to resume its activity, but the production never reached the same levels as prior to the war and the eventual difficult economic climate in the post war years help finish off the family business. Laberte himself became well known as an exceptional luthier and he was awarded several honors and medals not only for his consistently good quality instruments but also for his bows. Our violin has the original Marc Laberte label and bears the number #3810. A second label states Grand Prix 1931, Brussels 1935, and New York 1939. The violin also carries a label on the inside back treble side: Nicolaus Amatus Cremone & Hieronymi filu fecit, Anno 1651. The violin is an Amati broad pattern made with exacting detail. The wood on the top plate is of medium-width grain spruce, very consistent and straight; the back is two-piece highly attractive and deeply flamed maple with matching ribs, neck, and scroll all cut from the same slab. The varnish is an intense golden orange/brown color over a yellow ground. The violin was worked on and meticulously completed here in our workshop.
Corpus 357.0 mm., Major Width 209.0 mm., Minor Width 168.0 mm., Rib Height 31.0 mm.
The sound is dark and clear with subtle nuance to the tonal center that is captivating. It is balanced across all the strings with a beautiful mellow depth. The violin rings and has nice sustain as well as projection. Not only does it have a great sound, it is easy to play. Yes, a gorgeous instrument and I love the sound.