Late 19th Century Mittenwald Lions Head Violin – Wow Instrument! – SOLD DECEMBER 3, 2022 –
$3,000.00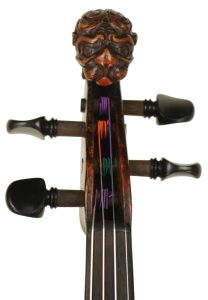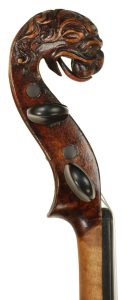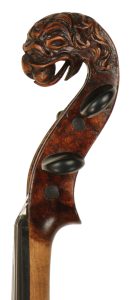 click picture to enlarge
The geigenbaumeister for this instrument does not have his name inside of the back plate of the violin. This violin is considered a non-stamped instrument. A real sleeper in my book. The instrument was made in a small violin shop in Mittenwald, Germany. This Bavarian town has been a center of violin making for almost 400 years. The altitude and its location along trade routes was a definite plus for exquisite tone wood and international visitors passing through the town. All of this helped to spread the fame and nuance of all the very talented violin makers who decided to make this small hideaway their home. The Klotz family, notably Matthias Klotz (1683-1743), was the spark that helped ignite the town's violin making fame. The Klotz family made instruments well into the 1800's. After WWI violin making in Mittenwald collapsed, and it has since made a comeback, starting in the late 1950's. We have gone over the entire violin and have cut and carved all new fittings. The violin does have patina and shows some imperfections in the varnish; who wouldn't at more than 100 years old. It plays well and is in good condition, no issues.
• Corpus 356.0 mm.
• Major Width 203.0 mm.
• Minor Width 162.0 mm.
• Rib Height 30.0 mm
The sound of the violin is simple and honest – straightforward. The top lays well in the high registers and is pleasing to the ear. The violin leans to the brighter side on the treble strings and the instrument's bottom end is strong with some guts. I like a little growl in a violin. It's alive in tone and maturity. This charming German violin would make a great instrument for a fiddler and/or a player looking for something slightly different. This instrument has it: response, gutsy tone with a bright top, unique look, well-aged, and yes, fun to play.