John Friedrich & Bros. Violin 1919 – Markneukirchen/New York – SOLD APRIL 20, 2023 –
$4,600.00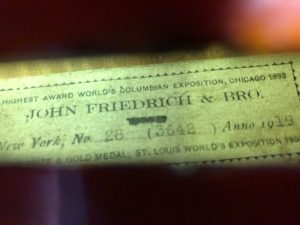 click picture to enlarge
A fine German Guarneri model workshop violin made for and sold by the shop John Friedrich Bros.in New York. Friedrich (1858 -1943) was born in Kassel, Germany. He studied violin making from 1875-1883 in Kassel, Stuttgart, and Leipzig. In Kassel he began his apprenticeships with Oswald Mockel, a prominent German violin maker and restorer. Friedrich came to the United States in 1883 and in a short time became well known among American makers for his instruments, identification, and valuations. His older brother William (1855-1911) joined him, and they established the violin making firm John Friedrich Bros. on 5th Avenue in New York City. Their elder brother Otto died in 1884. John made many instruments in his early years, also bows, violas, and a few cellos, but later on the business was chiefly devoted to restoring and selling. He received highest award for his instruments in Chicago 1893 and for one of his violins at the St. Louis World's Exposition in 1904. These awards are listed on the maker's label. The shop's last year of operation was 1935 when John retired.
The violin has a beautiful two-piece highly flamed maple back, ribs, neck, and scroll. The back is of medium-width curl descending from the center joint. The two-piece spruce top has even, medium-width grain. The varnish color is classic. It displays much natural patina and is an orange/brown color over a golden ground.
Corpus 358.5 mm., Major Width 211.0 mm., Minor Width 173.5 mm., Rib Height 31.5 mm.
The sound jumps off the strings with depth and richness in strength. The power and presence of sound was noticeable as soon as I started playing the instrument. The bottom end has a gutsy quality, a slight edge to the sound which really helps bring out the overtones of the violin. The instrument rings. The treble side is vibrant and noticeably clear. The sound is so inviting with power that will make a great fit for the serious player looking for a more out of their instrument.