German Violin Labeled "Bruno Artist," Markneukirchen circa 1928
$2,200.00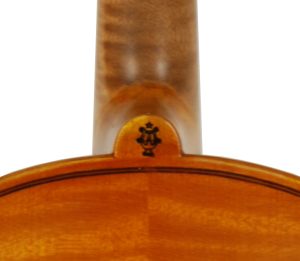 click picture to enlarge
Label:

Bruno Artist Violin
Copy of Guarnerius (Bruno Trademark Emblem)
Germany
We are offering a Bruno Artist violin imported to America via the Bruno firm, which was established in New York City in 1834 and later became Bruno & Son. The violin was made in the famous hub of violin making Markneukirchen. This German town has been making stringed instruments for almost 400 years, and the people are justly proud of their violin making tradition. Protestant immigrants brought violin making to Markneukirchen in the 16th century from the Bohemian town of Kraslice (Graslitz).
Our violin is from that town and imported to New York by the famous Bruno Firm sometime in the 1910-1920's. The violin has been played by a few generations and shows some patina and wear on the top plate which is now part of its charm. The back remains over-the-top nice with a flamed maple, matching ribs, and a spruce top with even/straight grain. The back plate also has the Markneukirchen emblem on the tongue. We have added a new ebony fingerboard, nut, cut a set of pegs, bridge, and soundpost.
Corpus 355.0mm., Major Width 209.0 mm., Minor Width 169.5 mm., Rib Height 29.0-30.0 mm.
This violin has a bold, strong sound. A little bit gutsy, which I like. The bottom strings respond quickly right off the bow. The treble strings speak well and retain the strength of the bass side. The treble side is slightly brighter with good clarity. The color and overtones that come from the center core of the violin are a great addition to the tone. In short, this instrument has power but also retains a maturity and depth in the sound which I also love. Each week I get to try out the latest violin I have restored with my daughter who is our worship team leader at our church. This week I took the instrument to two worship team rehearsals where we are preparing for special Christmas music. The violin had a great response off the strings in our large room where we rehearse, and it got great reviews from the team. The instrument lays well, is comfortable to play, and yes, I like the sound. This violin is another sleeper; a very nice German trade violin with good craftsmanship, close to 100 years in age, and if you're a history buff as well as a violin player, an opportunity to get an instrument with historic provenance.