Old Duiffoprugarr Style Carved Head Violin, 20th Century – SOLD NOVEMBER 29, 2022 –
$2,000.00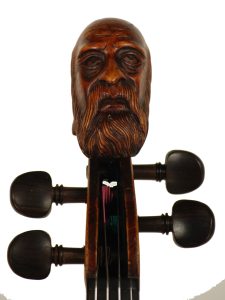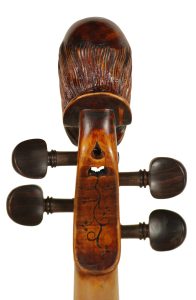 click picture to enlarge
Bears no label:
We have a beautiful example of a European style head carving occasionally found in French and Italian artisans of the 19th century. The instrument features an elegant sculpture of a bearded man's head all done in nice ornate carving. Our instrument is probably no more than 50 years old and is set up with rosewood fittings and Mr. Judd believes the instrument to have been made somewhere on the Pacific Rim.
450 years ago, violin maker Gaspard Duiffoprugarr (1514-c.1571) used elaborate inlays and intricate head carvings and is credited to be the first to do this type of work. An original bearded man violin found from this time period is very rare, especially found in one piece. In the mid 1800's they were made in the workshops such as Derazey, Vuillaume, Mezin and many lesser known Mirecourt workshops. These carved head instruments were always sought after, but it wasn't until years later that these violins were made very popular because of the famous jazz violinist Vassar Clements. He used his head violin as his main instrument for decades. The heads vary by the talent of the carver and how the craftsman interpreted his head style. Our violin is lightweight and does not nearly have the age to have come from one of these French or Italian makers. The back of the head has some detailed etching and contains two small holes. These holes were used to thread a piece of leather through the scroll and hang the violin on the player's neck. A priest would have used the instrument to process in and out of a liturgical service chanting and playing as he processed.
The violin is powerful in sound and has just enough sweetness to make this instrument a great choice for a fiddler. The G & D strings resonate and have noticeable rich overtones. The E&A have an even strength and tonal color that make the whole instrument jump. The violin has excellent response and sustain. A player will be able to feel this instrument pumping when its played. The instrument leans to the brighter side of the spectrum with a dynamic bold sound and a fantastic look.