Early Turn of the Century Japanese Violin – Gorgeous with Fantastic Sound!
$2,600.00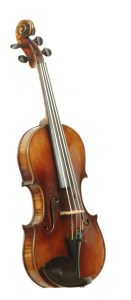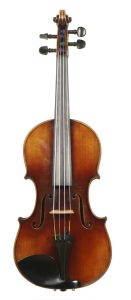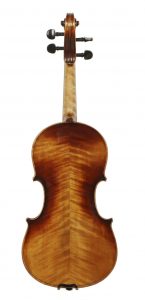 click picture to enlarge
We have a beautiful early 1900s violin. The workmanship on this turn-of-the-century instrument is exceptional. The wood selection is a knockout with the flame jumping out from the two-piece maple back plate. The spruce top is select with very tight even grain. This is a Stradivarius copy with all the correct arching, corners, projection, and design. We have fully examined the violin for repairs and gave it an entirely new setup in ebony with pegs, bridge, post, tail, chinrest, and end button. The varnish is striking, a golden medium brown, almost satin in appearance all over a golden ground. the golden yellow shines through and gives this violin a classic look. This 110+ year old violin is an excellent choice for an up-and-coming player.
Corpus: 356.0mm, Major Height: 205.0mm, Minor Width: 164.5mm, Rib Height: 31.0mm.
The sound of this violin is energizing and vibrant. It leans slightly to the darker side and has a great response off the the strings. The sound could also be described as being slightly covered, making it perfect for chamber players were blending is important. The sound is consistent through the treble and bass ends with the center core offering depth and maturity. This violin offers a beautiful sound that it matched by it's beautiful appearance.