Swiss Made Cello Bow circa 1990 – SOLD AUGUST 15, 2023 –
$700.00
click picture to enlarge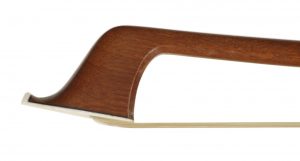 Stamped 'ALLEGRO' on the shaft; Stamped 'SWISS MADE' on audience side
This pernambuco specie bow cello bow is orange-brown in color and round in section. The ebony frog features a mother-of-pearl slide and a three-piece endscrew. Mr. Judd used sterling silver for the winding and nickel mounts in the frog for optimal balance.
Weight fully haired: 79.0 grams.