Milano Strad Model – German 1928 Violin – Very Nice!
$3,400.00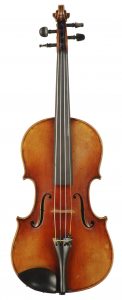 click picture to enlarge
Bears the label:

No. 125
Milano
Stradivarius Model
A.D. 1928
The Milano instrument was imported into the U.S by the New York City based Carl Fischer Music House back in the 1920's. The instrument was made in Germany and imported to Carl Fischer, who in his earlier days had a string shop in the store and carried many fine string instruments. He also did restorations and repairs and had many floors of music for sale as well. Later in the firm's life the firm just went to sheet music sales. The violin features a two-piece maple back plate. The maple is well-flamed and is evident in the ribs, neck, and scroll. The top plate is a fine-grain spruce, and the varnish is a slightly antiqued amber/orange/brown oil varnish, which also has a touch of red.
Corpus 361.0 mm., Major Width 211.0 mm, Minor Width 171.0 mm, Rib Height 30.0 mm.
The violin sound is powerful and full of color, with a little bit of guts. The sound is mature and responds to a good player's bow. The response is even on all four strings and the sound is clear. Simply, the violin rings on the bass side strings as well as the treble side. The core of the instrument D and A strings are mature but vibrant and carry the overtones well. The E and A strings have a sweet clean sound which are strong but not overbearing. A great sounding violin about to get to the century mark.