Luc Gallicanne, French 1924 – Violin #9 – Amazing Sound!
$7,500.00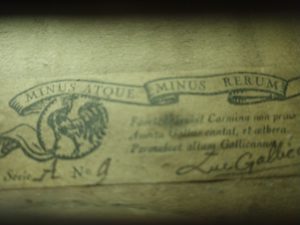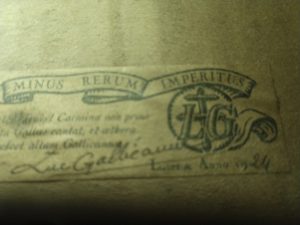 click picture to enlarge
A French violin by a prolific maker who was born in 1884 and died in the 1960's. Gallicanne opened his own shop in Paris in 1923. Our violin was made in 1924 and was no. 9 in his count of instruments. Gallicanne won medals at the Geneva Exhibition in 1929 for his workmanship and tone. He was highly thought of as a master maker and craftsman. Our violin is in excellent condition and is affordable for an instrument of this quality, age, and provenance of the maker.
We have reset the neck to the proper projection, bushed all of the peg holes and started over with a new set of ebony pegs, new ebony fingerboard and nut, Despiau Grade B bridge made from 200 year old maple, new sound post, tail, end button, and chin rest. We have also given the top plate a new corner and three new edges. This instrument was well played and played hard for years – a good sign. Someone loved the instrument and sound. Much restorative work has been done but truly worth the time. The quality of the work is exceptional. The arching is very healthy and adds to the power of the instrument. The scroll is very precise and artistically crafted. The wood choice is beautiful, especially the one-piece back plate. The varnish is also impressive, a light red-brown varnish on a golden orange ground. The varnish has dark spots on the spruce top plate in the four quadrants. These spots are attributed to Gallicanne's own technique in preparing the instrument for varnish. There are no structural problems at all. The age and natural playing of the violin have also given the instrument a beautiful patina.
The sound of the instrument has a unique voice. It is instantly rich and complex as well as unique and warmly reedy. The violin projects better than well and is highly responsive. The instrument responds to a strong player and when I just let the bow work with a light touch the instrument was still impressive. The upper register is beautiful and sweet. The overtones add to the nuance of the sound and the treble strings have nice sustain even in higher positions. The bottom register on the G string is gutsy as well as lush, qualities in textured sound found on very expensive instruments. This violin has the qualities a concertmaster looks for in a violin that simply sings with strength and has tons of personality.