Klaus Ludwig Clement Cello
CALL FOR SALE PRICE
$9,000.00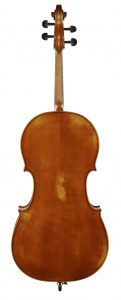 click picture to enlarge
Bears the label:

Klaus Ludwig Clement fecit
Leipzig, anno 2019
made in Germany C3-10wi
This cello was made by master luthier Klaus Clement in 2019. Clement was born in 1956 in Weissenburg, Germany. His love of violin-making developed in the workshop of Karl Hoefner/Paesold in Bubenreuth where he learned his craft. Since 2010 Clement has been devoted to crafting master instruments in his own workshop located in Leipzig, Germany. This instrument comes with a certificate, declaration of materials, and photos from the maker.
This cello is labelled 'Klaus Ludwig Clement fecit Leipzig, anno 2019, C3-10WI, Made in Germany,' The body measures 757mm along the back, 348.0mm across the upper bouts and 433.0mm across the lower bouts. The back is made from two pieces of flamed maple. The top is made from spruce with a straight grain. The cello has been antiqued with a good cover of golden to dark brown varnish and has ebony fittings.
This cello has a well-balanced powerful sound. The sustain and projection are very good, and the overall tone is not too bright. This cello is well suited toward the advancing player and this instrument will carry well in an orchestra. This instrument is fitted with the standard Larsen strings on the A and D and Thomastik Spirocore on the G and C. This string combination adds a level of focus and clarity to the cellos overall sound.