John Friedrich & Bros. Violin 1926 – Markneukirchen/New York – Fantastic Sound! – CURRENTLY OUT ON TRIAL –
$7,000.00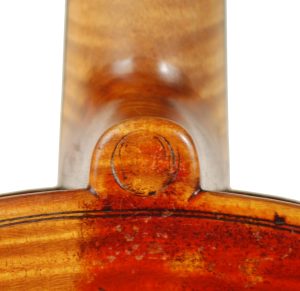 click picture to enlarge
We have a fine German grade #28 Guarneri model violin made for and sold by the shop John Friedrich & Bros.in New York. Friedrich (1858 -1943) was born in Kassel, Germany. He studied violin making from 1875-1883 in Kassel, Stuttgart, and Leipzig. In Kassel he began his apprenticeships with Oswald Mockel, a prominent German violin maker and restorer. Friedrich came to the United States in 1883 and in a short time became well known among American makers for his instruments, identification, and valuations. His older brother William (1855-1911) joined him, and they established the violin making firm John Friedrich Bros. on 5th Avenue in New York City. Their elder brother Otto died in 1884. John made many instruments in his early years, also bows, violas, and a few cellos, but later the business was chiefly devoted to restoring and selling. He received highest award for his instruments in Chicago 1893 and for one of his violins at the St. Louis World's Exposition in 1904. These awards are listed on the maker's label. The shop's last year of operation was 1935 when John retired.
Made in 1926, our violin has a gorgeous two-piece highly flamed maple back. The flame is medium width and descends slightly from the center joint and is stunning. The ribs, neck, and scroll match in degree of flame. The two-piece spruce top has even, medium-width grain near the center seam and widens at the flanks. The oil varnish color is deep red/brown, all on a golden ground. The varnish is very attractive while being antiqued and shows natural patina playing wear. The violin has been meticulously gone over with us here at the shop, receiving a new set up in ebony. We had the top off and completed a sound post patch, secured a few of the ribs and linings, and carved a new bass bar. The violin is in excellent condition while displaying the Friedrich & Brothers round emblem on the back tongue of the violin.
Corpus 355.5 mm., Major Width 209.5 mm., Minor Width 172.0 mm., Rib Height 31.0mm.
The sound is gorgeous and jumps off the strings with mature depth and sustaining strength. The power and presence of sound is a definite A+ and the response in overtones of the violin are very evident. The treble side is just as nice in the brilliant category and maybe even nicer than the large bass sound of the violin. The sound is clear and full of character across all of the voices. This violin has it! The it is a classic concert violin sound every maker strives for when they begin a handmade instrument. The sound is so inviting while claiming generous depth that makes it a great fit for the serious violinist looking for a Wow! instrument. The violin checks all the boxes.