Gaggini Workshop Violin, Anno 1929 – Great Sound!
$16,000.00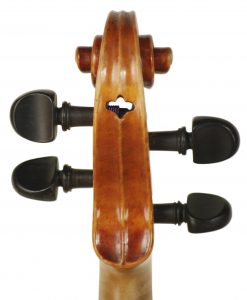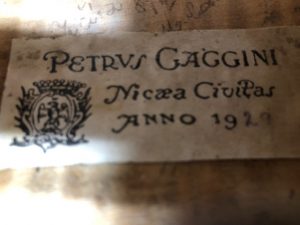 click picture to enlarge
Labeled:

Petrus Gaggini
Nicaea Civitas
Anno 1929
This Pierre Gaggini workshop violin from the city of Nice is of superb construction and is in very good condition. This violin is based off of Gaggini's personal model. This workshop's work and its output were known throughout France. The instruments were favored by several eminent professors at French conservatories such as the Conservatoire of Paris, Conservatoire of Bordeaux, and the one in Nice throughout the early 20th century. The selection of woods by the maker on our instrument are over the top fantastic. The spruce tone wood is of medium straight grain at the center seam and broadens slight towards the flanks. The one-piece back plate is gorgeous. The workmanship is evident in the quality of the corners, arching, clean lines, and deep channels at the purfling. I am also impressed with the deep luster of the varnish. It is an orange/yellow/brown on a golden ground, all hand drawn. Soon to reach the century mark, this violin has focused power, is healthy, and there are no issues.
Corpus 356.0 mm., Major Width 205.0 mm., Minor Width 168.00 mm., Rib Height 30.0 mm
The sound of the violin is responsive and powerful. Its instantly rich and retains a warmth in the lower register that is complex and reedy. The violin projects well and is highly responsive. The instrument responds to a strong player and when I just let the bow work with a light touch the instrument was also very impressive. The upper register is beautiful and sweet. The overtones add to the nuance of the sound and the treble strings have nice sustain, even in higher positions. The bottom G and D strings are gutsy and mature, qualities you would expect to find on high end instrument. The violin has the strength of sound a soloist looks for and simply sings, while having tons of personality.