Farotti, Celeste, Guarneri Model Trade Violin circa 1920-1930
$2,950.00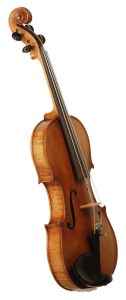 click picture to enlarge
Label:

FAROTTI CELESTE
da San Germano di Casale (Arms of Milan on right side, a flower on left side)
Fece in Milano nell' anno 1920
(signature)
We have an interesting German made Guarneri model violin labelled Farotti Celeste. Violin maker Celeste Farotti was born Celeste Farotto (1864 -1928) in San Germano di Casale, Italy and became interested in violin making around 1895 at the age of 31 and moved to Milan in 1899. He specialized in making spectacular copies of master violinmakers, so much so that his instruments were often mistaken for the original. His shop became quite prolific, but not on his own. In 1906 his brother Salvatore joined him and after World War I two nephews joined the brothers in the workshop. The history of the family is important to understand why a German workshop wanted to market their violin with a Farotti name. Farotti violins were of much value at the time I believe this violin was crafted. The violin is just beautiful and made of good materials. The spruce top has a fine to medium width straight grain that broadens towards the outer flanks. The two-piece maple back is highly flamed with matching ribs, neck, and scroll. The sound hole knife work is spot on and the scroll was carved by a luthier who had many years of experience. The oil varnish is an orange/brown color on a golden yellow ground. The varnish on the back and ribs is antiqued and has a gorgeous depth to the color. We have meticulously gone over the entire violin in our workshop and given it a new set up. The instrument is in excellent condition, has no issues, and is gem for the price.
Corpus 357.0 mm., Major Width 206.0 mm., Minor Width 168.5 mm., Rib Height 30.0 mm.
Sound-wise it is a blend of brightness and power. The tone is even on all four voices while the bass side has a little bit of a gutsy drive with a focused sound. The sound carries even up into the higher positions. The E & A strings lean more to the brighter side of the spectrum while the center core of the violin continues to have excellent responsiveness. I can feel this instrument pumping as I played, and a player will enjoy the power they can draw out of the violin.