Ernst Heinrich Roth 1955, Bubenreuth/Erlangen – BOLD SOUND!
$7,995.00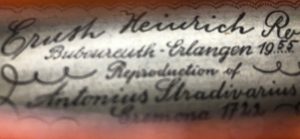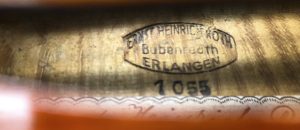 click picture to enlarge
Branded:

Ernst Heinrich Roth
Bubenreuth
Erlangen
1955
Labeled:

Ernst Heinrich Roth
Bubenreuth-Erlangen 1955
Reproduction of
Antonius Stradivarius
Cremona 1722
This violin is a Ernst Heinrich Roth. The instrument was made in 1955 while Albert Roth was still living and heading up the Roth firm. He was a stickler for only the best workmanship. This is Stradivarius pattern, the 1722, Roth model VIII-R (8-R). The violin is in excellent condition and has no issues. We have retained the original pegs and cut a new bridge for the violin. The wood selection is way above average. All of the maple is highly curled, and the back is two-piece maple and the spruce table is an even grain, medium-to-small width. The workmanship is correct on every detail. The oil varnish is an orange/brown on a golden/amber ground. The clarity is spot on, and the color helps set this violin apart. The violin has been tastefully antiqued.
Corpus 356.0 mm., Major Width 206.0 mm., Minor Width 168..5 mm., Rib Height Lower 30.0 mm., Upper 29.5 mm.
The sound is powerful, and the instrument has guts, especially on the G and D strings. The sound pops and will carry in a large concert hall. The instrument has a fantastic response, is focused and muscular. The violin handles its strength up into higher positions. The sound is powerful while still retaining warmth and maturity. The treble side is clear, crisp, and not overly bright. In short, I loved playing this instrument. What a violin.