Brilliant Viola Strings
$12.00 to $65.00
To avoid damaging strings it is essential that Warchal viola string sizes are chosen according to the vibrating string length of your instrument and not its body length. You can measure the vibrating string length as shown in the diagram. We find that the majority of violas have a vibrating string length that suits the standard sized strings.
Standard vibrating length is 14″– 15″ (36 – 38 cm).
Long vibrating length is 15″– 15 ¾" (38 – 40 cm).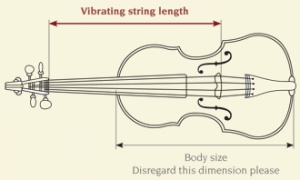 Return to String Page