Bobelock 2028LS Arrow Adjustable Viola Case- Red Wine – CURRENTLY OUT OF STOCK
$290.00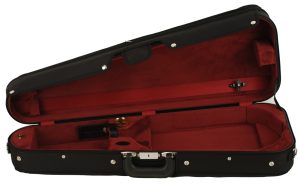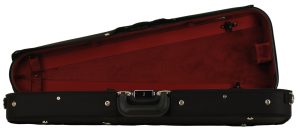 click picture to enlarge
Bobelock 2028LS Arrow Adjustable Viola Case- Red Wine
The Bobelock 2028 Arrow Suspension viola case uses a patented adjustable slide to fit any size from 15" to 16.5" while weighing only 7 lbs., giving a big case for less weight. Built using a layered plywood case construction and designed to maximize the arrow style shape case, the 2028 adjustable viola case is covered with a durable black nylon canvas zippered cover and outside music pocket.
Interior color/fabric selection: Wine interior, Black exterior
Design: Arrow shape
Lighter weight than most viola cases: 7.0 lbs.
Features:
Adjusts to fit violas from 15" to 16.5" and up to 260mm wide
One accessory interior pocket
Two bow holders
Suspension
Shoulder strap
Subway strap
Rain flap
String tube and blanket
Full exterior music pocket
Pencil pocket