A Fine German Violin by Heinrich Th. Heberlein 1903 Copy of Antonius Stradivarius, Labeled and Branded
$11,000.00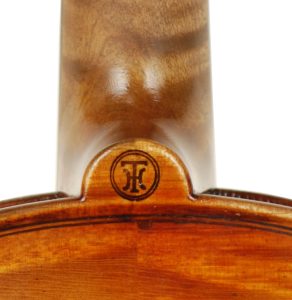 click picture to enlarge
Labelled:

Heinrich Th. Heberlein
Markneukirchen 1903 (maker's monogram on label)
Imitation Antonius Stradivarius
We are offering a gorgeous Heinrich Theodore Heberlein Jr. (1843- 1910) violin. He was by far the most famous member of the Heberlein family and one of the best Markneukirchen makers of his day. He studied with his father, Carl August Heberlein. In 1863 he established own independent workshop in Markneukirchen, where he worked up into the 1900's He also taught at the Markneukirchen violin making school and his instruments received about a dozen medals at exhibitions throughout Europe. He studied the fine Italian violins and made gorgeous replicas of the old masters and copied their traits. His varnish was always applied to each instrument to imitate an older, classic worn appearance. The varnish on this instrument is stunning. Heberlein was a detail person in every aspect of building and finishing string instruments and/or bows he made. His quality of wood never varies and is always over-the-top nice. This violin has been branded inside above the label and on the back of the tongue.
Corpus 356.0 mm.
Major Width 209.0 mm.
Minor Width 166.5 mm.
Rib Height 30.0 mm tapering to 29.0 at the neck
The instrument lacks nothing tonally. It's easy to play, with a powerful clear voice full of overtones. The violin is responsive to a light bowing touch and responds for the most demanding of player. The G and D strings are incredibly rich and clear. The sound leans slightly to the darker side and has a noticeable sustain and smoothness. The E & A strings respond instantly, and the sustain is a noticeably even better than Wow! The tonal colors of the violin will capture you and the instrument will be a certain winner for a talented player.