15 1/8" Beautiful Old German Trade Viola – Strad Modeling circa 1940
$2,600.00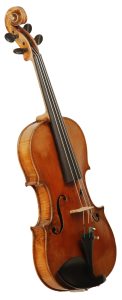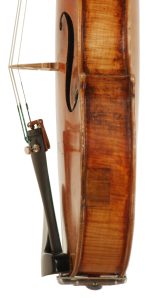 click picture to enlarge
Label:

Antonius Stradivarius Creamonesis
Fecitbat Anno 1725
This viola may be a great fit for a smaller viola player or the violinist that is looking to augment their income with a decent sounding smaller viola. This instrument was made in a German workshop prior to W.W. II. The wood on the instrument is way above average. The spruce top plate is of narrow even grain which broadens slightly on the treble side as you follow it towards the outer flank. The maple back has a nice medium-width figure that slightly ascends from the center seam. The ribs have a narrow width maple curl along with the neck that is beautiful. Age has given this instrument a lovely patina and we have completely gone over the viola with a new set up and ebony fittings. The viola has one restored rib where a section of the rib was replaced – all done well and hardly visible (see picture above). We added Evah Pirazzi strings to juice up the power and presence of the instrument; not our typical set up.
Corpus 383.0 mm., Major Width 223.0 mm., Minor Width 179.0 mm., Rib Height 34.0 mm.
The sound is warm and smooth with a generous amount of sustain. In short, the viola rings. The ease of playability is definitely evident, and the sound has a reediness (woodwind) quality to the overall character. Yes, this viola has an older personality and nuance to its sound. The top is brighter in sound but still holds on to that older quality of tone. The bottom end has power and strength and the A and D strings ring with a little boldness. This viola has definitely been played over the years and is just now reaching its golden years. Yup, the instrument is sweet in its look and strength of sound. The viola is for the player looking for a 19th century look, warm and strong sound, and playability which is so important for a violist.