SCHINDLER Violin Bow, Bad Brambach c. 1930
$1,595.00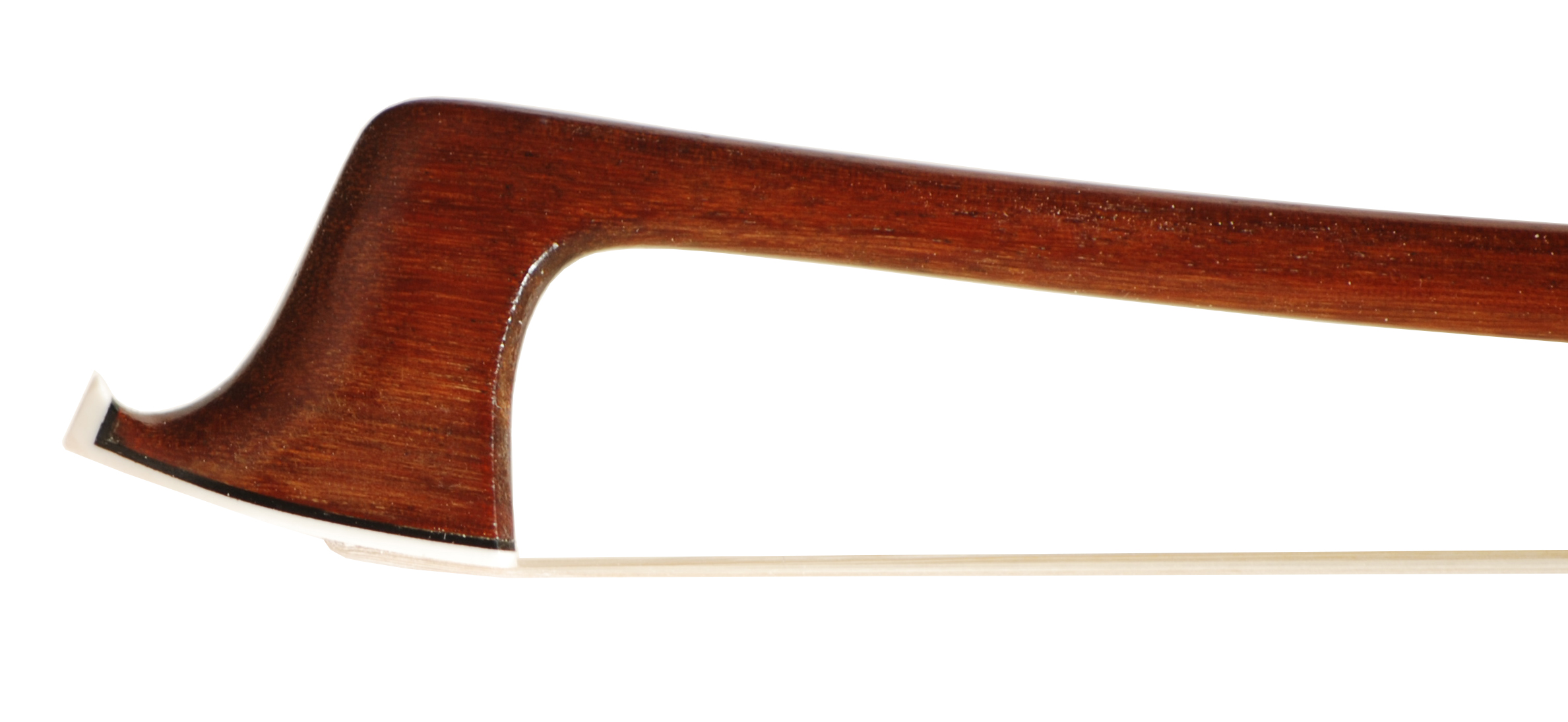 Branded:

SCHINDLER
Brand on the flat:
GERMANY and one degree next to the mortise flat a number 38
A very nice 20th century German bow made in the workshop of Gustav Schindler located in Bad Brambach, Germany. The bow is in beautiful condition and has no issues. It features a firm but flexible pernambuco stick mounted in sterling silver an ebony frog with single mother-of-pearl eyes. The winding/grip is baleen completed and secured with a leather thumb. Baleen winding for a bow was used on decent sticks in its day, usually found on sticks from the 19th century. The bow has great age, and once was catalogued into a shop. The number 38 (a good sign) is branded on a flat of the bow adjacent to "GERMANY".
I have owned this bow in my collection since the early 1980's when my dad and I would go out on weekends and hunt old violins and bows at estates, auctions and private sales. I purchased this bow with an instrument during my first year of college somewhere in the New York City /Northern New Jersey area. Now, I'm finally getting to my collection of goodies I've had in boxes for 40 years. The bow was meticulously gone over in the upstairs workshop, keeping the baleen winding, cutting a new piece of leather for the thumb grip, and replacing and restoring the bone tip. The head of the bow is now in beautiful condition and the naturally worn frog makes this bow stand out. The bow will completely engage the player and an older bow such as this is over the top fun to play. This bow will compete and compare with some of the best silver specials and limited-edition silver bows being made in Brazil.
Yes, the bow is fun to play with and the weight makes it very manageable in the hand and to throw at the strings. I considered keeping this stick and putting it in my own personal collection for playing on my church's worship team and for my Scottish fiddling. The Schindler bow has natural patina, good age, choice pernambuco wood, workmanship that is better than a workshop bow, light gram weight and decent strength. This is a very nice bow waiting for a new home.
Weight fully haired 55.6 grams.