Scarampella School Violin Mantova, Italy ca. 1925-40
$16,000.00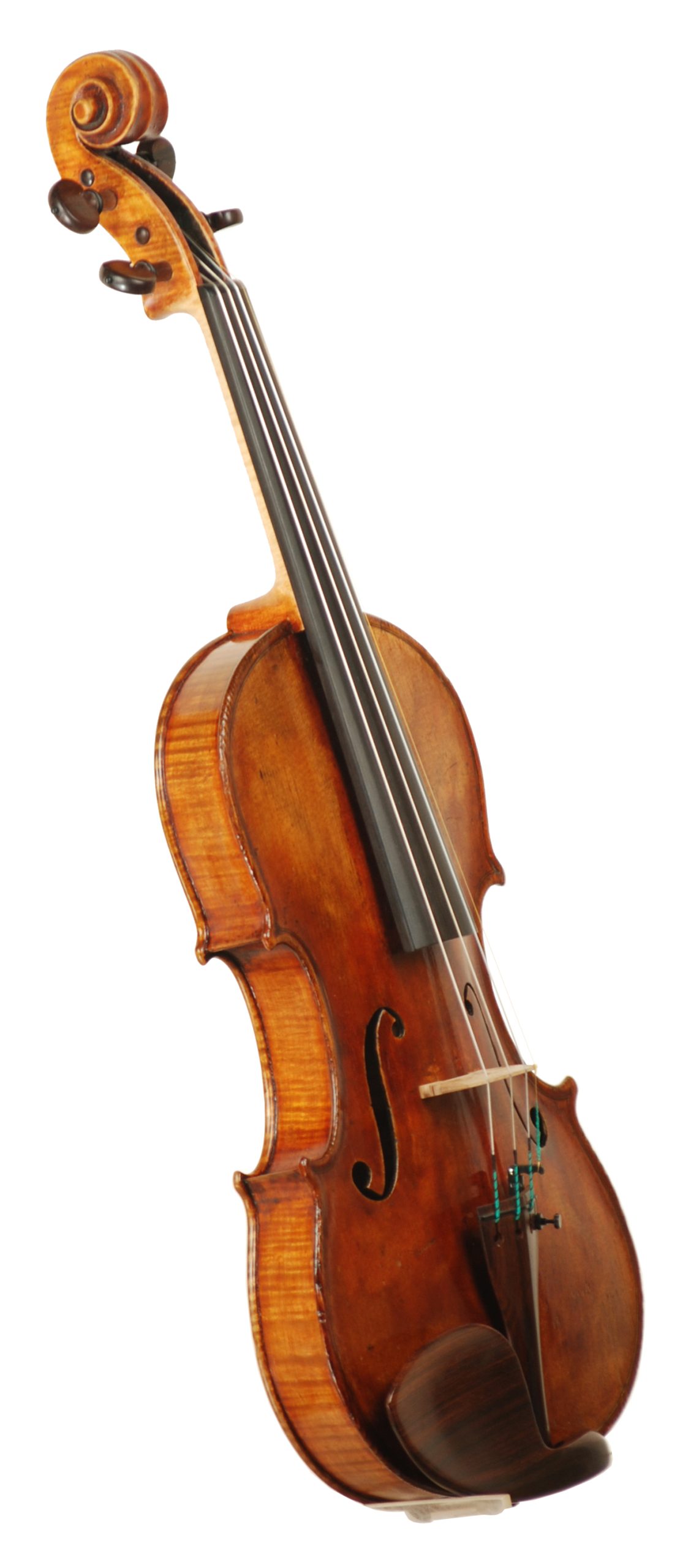 click picture to enlarge
Labeled:

STEFANO SCARAMPELLA
DI BRESCIA
Premiato con Megaglio d'Argento
Fratello ed allievo del GUISEPPE
Fece Manotova anno
We have an awesome early-to-mid 20th century Italian violin. The instrument has abundant character and gorgeous patina. The violin is possibly the work of the maker Amedeo Simonazzi (1891-1974) who was a pupil of Stefano Scarampella. Simonazzi began learning violin making when he started to frequently visit Master Scarampella's workshop in Mantua, for whom he eventually started to work. Amedeo Simonazzi seems to have had no students during his career and was by far one of the most prolific makers of the 20th century in Italy. He made between 400 and 500 instruments through his very long career, from his young age until his death in 1974 at the age of 83.
The violin has a two-piece maple back plate featuring narrow horizontal curl. The maple ribs and the scroll are of similar curl or flame. The spruce top plate has medium-width grain and the varnish is a red/orange color over a golden ground. The varnish is beautifully transparent and shows signs of normal playing wear. Playing wear is great to see. We have meticulously gone over this instrument in our workshop, and it is generally in very good condition. We only found two restored wings repaired on the f holes. The workmanship is precise and the lines and shape simply classic. The woods are outstanding, what I would expect from this period. This is an excellent violin that is already close to 100 years old.
• Corpus 356.0 mm.
• Major Width 205.0 mm.
• Minor Width 164.0 mm.
• Rib Height 30.0 mm.
The violin has the total package: a classic look and clear ringing mature sound. The instrument has a slight edginess to the sound, especially on the bottom which helps to add the complex overtones. The G and D strings sound is full and responsive. I loved digging into this violin and found it responded very nicely. I could quite possibly see this violin be ideal for solo work. The sound is masculine, even leaning towards bold. The smaller arching and slightly larger f holes help create the maximum power and drive that oozes out of this violin. Everything lies well and it is comfortable to play. I spent a lot of time checking out the core of the violin too. The core is strong even with my bass playing chops that tend to lay into everything with a bit of bow weight. The treble strings are powerful and have plenty of life, not choked. The E & A strings never relented in power and are brilliantly crisp, even throughout the length of the strings. The violin has a terrific sound with plenty of character.