Rudolph Wurlitzer "CREMONA" – German Violin Circa 1900
$2,500.00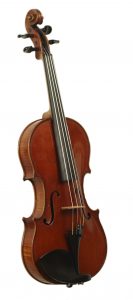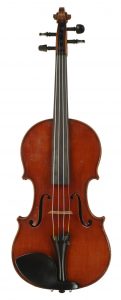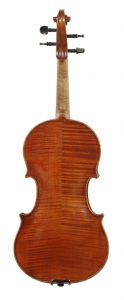 click picture to enlarge
Rudolph Wurlitzer (1873-1948) was the owner of a fine music company with three major locations in American called Wurlitzer's. Rudolph was born in Markneukirchen, Germany and was a descendant of a family of violin makers dating from the 1700s. Markneukirchen was the German hub of violin making and it remains influential in the string instrument trade. The Cincinnati shop was opened by Rudolph upon his arrival to America. This violin was made in Germany for the American trade. It is based off the Stradivarius model and is in good condition. The orange/brown varnish is clear with natural patina. We take the playing wear as a good sign that the instrument was played and well cared for. The violin has a well flamed two-piece maple back and a medium-width grain two-spruce spruce top. It has been completely gone over and dons news ebony fittings, a freshly carved bridge and new sound post. This violin is ready for another 100 years of making music.
Corpus: 356.0mm, Major Width: 206.0mm, Minor Width: 168.0mm, Rib Height: 31.0mm.
The sound of this violin is full and inviting. The bottom end has a rich and mature tone that is maintained through playing in higher positions. The response of the strings is quick and offer a pleasing tone. The top end rings and leans toward the the bright, brilliant side of the sound spectrum. Overall, the sound is clear and the violins lays well in the hand, making it easy to play. This European violin is perfect for an advancing musician who appreciates the nuance and mature sound of an older instrument.