Mittenwald Violin by Ottomar Hausmann, circa 1950-1960
$4,350.00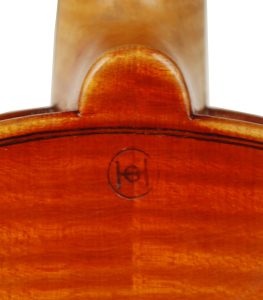 click picture to enlarge
Label:

Ottomar Hausman
Giegenbauer
Mittenwald/Karwendel (branded)
Made in Germany
We have a mid-20th century Mittenwald violin by Otto Hausmann. Hausmann is originally from the Bohemian village of Schönbach and came to Mittenwald as a refugee in 1946. Otto was an experienced craftsman learning and honing his skills in the Czech Republic some 20-30 miles from the German border. His skills were sought after as a young man in the violin industry. His wood selection has always been from the Karwendel mountains, which is why the Mittenwald area of Germany thrived with its instrument making. This Guarneri model instrument was a template that he followed almost his entire career. The choice of woods is gorgeous, with a two-piece highly flamed maple back plate with matching ribs, neck, and scroll. The spruce table is straight even grain spruce, almost perfect. The choice in wood is a trademark of Hausmann's work and so is his varnish. The violin is branded inside next to the right side of the label on the inside back and on the back of the violin below the tongue. Hausmann instruments have enjoyed definite success in his making, and his instruments all have this rich orange/gold oil varnish all on top of yellow golden base. His mastery of traditional craftsmanship shows in his execution of the lines in the scroll and the purfling work around the perimeter of the violin. We have meticulously gone over the violin which is in very good condition and completed the set up in traditional ebony fittings.
Corpus 356.0 mm., Major Width 208.0 mm., 168.5 mm., Rib Height 30.0 mm
The sound is bold and large. Once you start playing the violin you will feel the power and response of the instrument. The bottom strings are dominant and clear, full of overtones. The treble side is just as striking in power and response in sound. Hausmann definitely locked into the secret as to what makes a violin project and contribute to its glory. The sound is over the top nice. This violin will not last long here in the shop.