Mid-19th Century German Violin – Outstanding Sound and One-Piece Back – CURRENTLY OUT ON TRIAL –
$6,500.00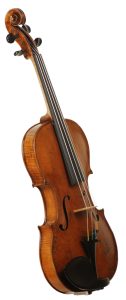 click picture to enlarge
We are offering a violin with all the hallmarks of Italian workmanship, full of handmade character and remarkable attention to detail. The violin is just waiting for the player who loves older instruments. The instrument has the rich classic color and natural playing wear patina. The top plate follows the Stradivarius graceful arching which helps to give strength and power to the instrument's sound, while the major and minor widths and bout lines of the instrument are German. The violin is beautifully preserved with the only issue to report is a very fine repaired crack to the upper left treble side bout about two inches in length. The violin has had some top edges added and a few corners added over the years. The violin has a neck graft and a second set of bushing in the scroll just completed here in our shop. We have added a new fingerboard, nut, pegs, B grade Despiau bridge (200-year-old French maple blank), sound post, ebony tailpiece, button, and chin rest. The instrument is in very nice condition and is loaded with charm. The flamed maple in the one-piece back and ribs is stunning. The workmanship is so nice that I can't believe it does not contain a label or brand. A 175-year-old sleeper. A fantastic instrument with no label.
• Corpus 356.0 mm.
• Major Width 206.0 mm.
• Minor Width 172.0 mm.
• Rib Height 29.0 – 29.5 mm
This violin has a gutsy, woody sound, remarkably responsive with maturity on the G and D that delivers a tone you won't want to put down. The sound is over the top beautiful and is the best reason for a player to fall in love with an instrument. The tonal character is invitingly warm, mature, slightly darker in sound, and powerful when you need it. The violin will answer to any degree of bow pressure and the instrument simply lays well; it is easy to play. The treble side of the violin is sweet, slightly brilliant, giving the same strength as the bottom end. The clarity of the sound is very good, and it has tremendous carrying power. Yes, I am very taken aback by this violin. I can't wait to see a smile on a player when they get to experience this older instrument.