Italian Violin Attributed to Luigi Rovatti, Circa 1900-1910 – Gorgeous Warm Sound!
$10,000.00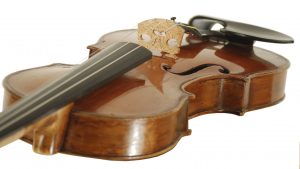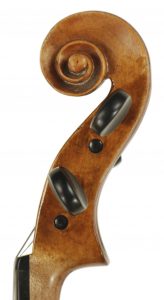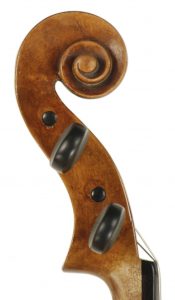 click picture to enlarge
No label or brand – attributed to the School of Rovatti
This violin has tons of personality with a one-piece slab back maple plate and a one-piece spruce top. This violin has all the characteristics of Rovatti (1863-1931) who emigrated from Italy to Buenos Aires, Argentina and established his shop in 1885. Rovatti studied with three very well know Italian makers: Enrico Ceruti and Joseph and Enrico Rocca in Genoa. His instruments are sought after in North and South America. His most well-known instrument is the cello he made for Ennio Bolognini. This cello is now on display at the Smithsonian Museum in DC. You need to check it out. Our violin is unlabeled or unbranded and has all the markings of an Italian violin and Rovatti's hand. This was our COVID restoration during the downtime when people were staying home. The instrument received a neck graft, all eight pegs holes bushed with a new set of ebony pegs, new post, tail, chin rest, two-hundred-year-old wood in a Despiau grade B bridge, and a new ebony fingerboard and nut. The violin has been very well preserved and contains a few dings in the top plate and one on the back. Otherwise the instrument is in very good condition for 110 years and plays better than well.
The sound of the instrument is a WOW! The bottom end is rich and lush, sound I can listen to all day. The tone is a little darker than a new instrument with plenty of volume. The response off the strings is fantastic and the violin projects well with very little effort in the right hand. The treble side is sweet and rich too. This instrument does not lack either when you play up in 4th through 7th position. The violin speaks, has tons of warmth, presence that I like to hear. This instrument will suit a player who wants to be heard and loves a more refined quality of sound. An Italian violin at a great price.