J.B. Bredall – 1920 Violin , Chicago
$11,500.00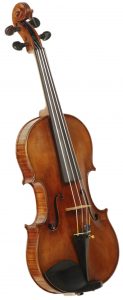 click picture to enlarge
We have in very good condition a handmade violin by J.B. Bredall (1890-1920). It is visually superb and tonally a "Wow!" in my book. Bredall worked with many highly regarded makers and shops in Europe. As a young man he worked for Emile Laurent (Pere) in Mirecourt, later with Leandro Bisiach the second in Milan. He perfected his training and knack for fine restorative work while with Emile Francois in Paris before coming to America and becoming the principal repairman/restorer for the Lyon & Healy shop in Chicago from 1908-1920. This handmade Bredall violin made its way into the Fritz Reuter & Sons very selective registered collection and catalogue in Chicago. That was no easy feat, as Fritz Reuter & Sons was a very highly regarded mid-to-late 20th century house of fine violins. The instrument has crisp lines, beautifully preserved corners, and the original varnish is lustrous and is relatively unmarked. The back does contain some playing wear, very slight dents in the varnish, (hardly visible) playing wear. The one-piece maple back is a knockout, not to mention the neck and ribs.
Corpus Length 357.0 mm – Major Width 207.0 mm – Minor Width 168.0 mm – Rib Height 30.0-31.0 mm.
This handmade instrument meets my expectations in sound, too. Comfortable to play, the sound is mature and strong. The tone is clear yet sophisticated, with just the right amount of sustain to keep the sound radiant and beautiful. There are no weak spots in the register, just a rich expressive sound that will fill up any room or concert hall.