GLASSER AEX – Carbon Fiber Hybrid Acoustic/Electric Violin
$1,200.00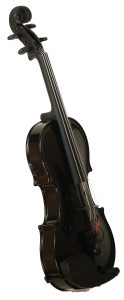 click picture to enlarge
This is the brand new sleek looking electric violin by the Glasser Company, USA. Fully carbon fiber, the instrument provides versatility to any player as it produces an acoustic tone by itself and shines when plugged into a sound system.
Its electric options include volume control, which is conveniently located on the Glasser Swordfish tailpiece, as well as bass and treble controls on the chinrest. Sound adjustments are easily made on the fly. The 1/4" jack is also located on the chinrest, and we recommend a 90-degree cable plug. Tuning the violin is made easy with four fine tuners and the Perfection Planetary Pegs for fast tuning and stability.
Both the soundpost and bridge are made from carbon fiber which finishes off this fully carbon fiber violin. The state-of-the-art electronics are made by Bartolini, and the bridge pick up is made by Schatten. The violin comes fitted with Larson strings and a screwdriver that is needed to open components. The active pickup system is run by three AAA batteries.
The Glasser AEX Violin is sold alone. A case and bow are sold separately.
Corpus 354.0 mm., Major Width 206.5.0 mm, Minor Width 167.0 mm., Rib Height 29.0 mm