CONRAD HEBERLEIN – St. Louis, MO 1940 Violin
$12,000.00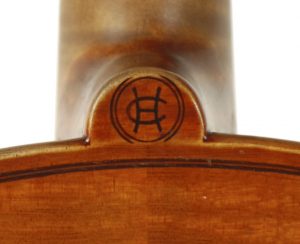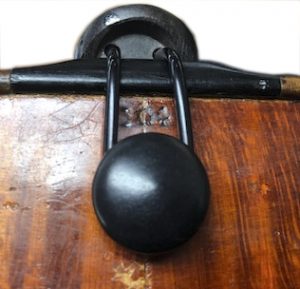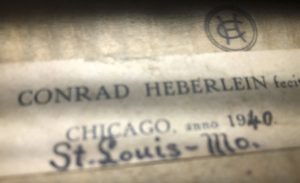 click picture to enlarge
Label Reads:

CONRAD HEBERLEIN (CH Logo)
CHICAGO anno 1940
St. Louis – Mo.
We offer an over-the-top nice Conrad Heberlein violin. Conrad was born in 1887 in Markneukirchen, Germany. He apprenticed to Ernst Schmidt in Markneukirchen from 1893-1896. He also worked with his uncle Heinrich T. Heberlein, and Richard Weichold, in Dresden, and a Berlin branch of Neuner & Hornsteiner. Conrad came to Philadelphia and started working for Julius Gutter in 1903. He left Philly and went west to Chicago working for Pelz and later Ferron before establishing his own shop there in 1909. He left Chicago and in 1934 settled in St. Louis. Our violin comes from his time in St. Louis and is a Guarneri model instrument. The violin is branded with the (CH) logo on the tongue, on the inside back plate above the label and on the bottom rib area above the end button with the number (104). This instrument came from David Bromberg's personal American violin collection, Wilmington, Delaware. We are honored to be stewards of this fine American violin until it sells, we hope someday this year. David collected over 260 American violins since he was turned onto American violins by Jay Unger in 1970. His collection was the best historical collection of American instruments made from 1848-1950 ever. Please see https://stringsmagazine.com/david-bromberg-on-his-collection-of-270-american-made-violins/
Our instrument is in fantastic condition and has no issues. This violin has a highly flamed two-piece maple back with the flame having a slight descent from the center seam. The neck, scroll, and ribs all match in degree of flame to that of the back. The table is a fine-width grain spruce and the fittings are all carved in rosewood. The violin is in exquisite condition and is ready for another serious collector or player.
Corpus 357.5 mm., Major Width 208.0 mm., Minor Width 171.0 mm., Rib Height Lower 31.0 mm, Upper 29.0 mm.
The sound on the instrument reminds me of a glorious mezzo-soprano voice with some guts. The sound has power and a maturity a player will love. The bottom end is rich, leaning to the darker side of sound and the strength of the treble side will rival the best of any violin. The tone is sweet and brilliant while the response off the strings is instant – it doesn't hold back. A definite WOW! in sound. This historical instrument is a sure winner for a soloist and a violinist looking for a distinguished sound. The classic lines and beauty only add to this violin's appeal.