Christian Olivier & Paul Bisch, Paris 1926 Violin
$4,500.00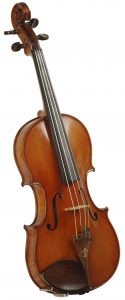 click picture to enlarge
Label reads:

1926 Christian Olivier et
Paul Bisch
(all written in black bold ink on top of the label)
Paris flourished after WWI and so did the musical culture of this city in the 1920's. This is the decade when a violin firm was founded and our 1926 gorgeous violin from the Olivier & Bisch workshop was created. The two violin connoisseurs opened the violin shop jointly in 1923 and by 1926, the year this violin was made, the workshop had been officially appointed the Luthiers of the Conservatoire. The partnership worked well for over eleven years as Olivier managed the business so that Bisch could concentrate all his efforts on making the highest quality string instruments which were now expected from their clients. Paul Bisch (1893-1967) was born in Mirecourt, the hub of French violin making, and got his start in the violin world at a young age. Bisch worked at various violins shops, but most importantly, the Caressa & Français shop in Paris allowed him to study and learn fine restoration and be witness to the finest Italian and Parisian instruments in the world. Bisch apprenticed under some of the most demanding makers in the Mirecourt-to-Paris swath of violin making real estate. Léon Mougenot was his first master teacher as well as Thibouville Lamy and Marius Didier at the Caressa & Français shop. We currently have instruments from all three of these violin making workshops. Paul Bisch's fine craftsmanship and wood selection habits are seen in the two-piece highly flamed maple back.
The sound is indicative of the workmanship; lush, rich, warm G and D string sounds, and a clean, clear, brilliant treble side of the voicing as beautifully transparent as the orange-red oil varnish. The power of the instrument can easily be brought out with a great bow stroke and the overtones are apparent, especially in the middle voicings (a and d strings). The violin projects well at the same time the response off the strings is very good. This instrument will make a great addition to a player's collection or a first-time fine violin for the advanced player or professional.