Andreas Morelli, Stradivarius Model – Gorgeous Older Violin c. 1930
$6,700.00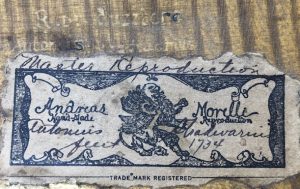 click picture to enlarge
Label Reads:

Master Reproduction
Andreas Morelli
Antonius Stradivarius
Fecit 1734
Branded Above the Label:

Reproduzzione
Antonius Stradivarius
We have a gorgeous one-piece back Morelli violin. The instrument was made in the workshop of Karl Herrmann of Markneukirchen, Germany and bears the Andreas Morelli 1737 label. The craftsmanship on this German violin is fantastic and the wood selection is way above average. The instrument was made around 1930. In addition to the label, it is also branded on the inside back above the label with "Reproduzzione/Antonius Stradivarius." The instrument has a one-piece highly flamed maple back with medium width flame. The instrument has a neck graft and has had one set of bushings done in the past – all fine work. We have meticulously gone over the entire violin and done a new set up for the instrument. The spruce top plate grain is straight and consistent medium width. The instrument has natural playing wear – now a beautiful patina with an amber/orange/brown with a touch of yellow oil varnish all over a golden amber brown. The violin is in very good condition.
Corpus 359.0mm., Major Width 206.0 mm., Minor Width 167.0 mm., Rib Height 30.0 mm.
The sound of the violin carries with it a deep maturity and power. The sound resonates and I can feel everything pumping/resonating. The sound is dark but clear. The sustain is evident and the sound makes this instrument perfect for the player looking for a great orchestral violin. The sound is clean and well-balanced throughout all the voices. The treble side is equally as vibrant. The sound is powerful and brilliant to the ear. I believe it is enhanced by the slightly larger corpus of 359.0 mm. This violin will be an excellent choice for the player looking to up their level of violin to an older European instrument that has performance, condition, age, and the all-important – sound.