Alliance Strings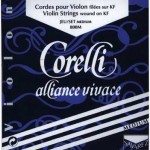 Available in light, medium and forte gauges, full size only.
Instrument
String
Price
Violin
Set
$57.00
Buy
E
$4.00
Buy
A
$16.00
Buy
D
$20.00
Buy
G
$23.00
Buy
Cantiga Strings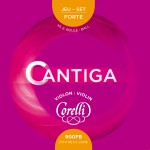 Cantiga strings have a core made from a brand new polymer, which is totally different from nylon.
It offers unprecedented characteristics.
A genuinely high end string.
Instrument
String
Price
Violin
Set
$74.00
Buy
E
$5.00
Buy
A
$18.00
Buy
D
$26.00
Buy
G
$27.00
Buy
Crystal Strings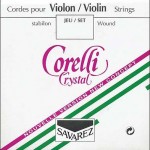 Corelli Crystal violin/viola strings are made with synthetic core and offer relatively warmer sound spectrum.
Inexpensive and ideal for student instruments.
Cello strings have a solid steel core for A, D, and G and rope core for C.
Instrument
String
Price
Violin

Set
$50.00
Buy
E
$4.00
Buy
A
$13.00
Buy
D
$15.00
Buy
G
$20.00
Buy
Return to String Page