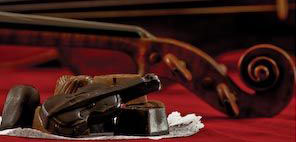 Join us for an evening of hors d'oeuvres, chocolate, and string instruments.
Monday, April 13th and Tuesday, April 14th
5:00 – 9:00 pm
Quaker Valley Middle School
618 Harbaugh Street
Sewickley, PA 15143
We will be offering two seminars:
6:00 pm Basic Instrument Care
Jeff Judd will cover the basics of instrument care, including bridge straightening, storage, humidity and temperature, cleaning and changing strings, cases and bags, and more!


7:00 pm String Comparison Seminar
Jerry Lynn will play a number of identical violins with different string sets. This will facilitate discussion for players about the importance of proper setup and how the choice of strings affects balance, warmth, brightness, volume, clarity, and playability. We will also discuss value versus price for strings.


In addition to the seminars, we will have approximately 150 instruments and 150 bows for players to try; come early and stay late to sample the instruments! If you are in the market to upgrade your instrument, while you are at the event we can arrange a trial period for you take an instrument or instruments home to try out.
There will be a door prize each night: a complete student instrument setup (instrument, case, bow, and music stand) for the teachers, and an Ophelia Black carbon fiber bow for players.
Go HERE to reserve your spot!