T. DODD, Covent Garden – England, FRENCH VIOLIN, circa 1890-1900 – CURRENTLY OUT ON TRIAL –
$4,000.00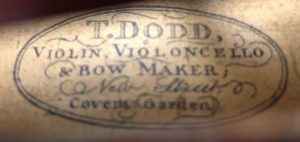 click picture to enlarge
Label in an Oval Reads:

T. DODD,
Violin, Violincello & Bow Maker;
New Street
Covent Garden
The famous Dodd name is usually associated with fine English bows from the late 1700's through the 1800's. Our violin is from the T. Dodd Violin Shop, makers of violins from the mid-19th century to the early 20th. T. Dodd's two most important workers were John Lott and Bernhard Fendt, excellent craftsmen and violin makers in their own right. T. Dodd was the brains and owner of his establishment and a very enthusiastic connoisseur of instruments but not a violin maker. If anything, T. Dodd did the varnish work on the instruments made at his shop. Britain and all of England from the 1840's through 1917 was in a renaissance or revival of violin making and sales. Shops like the Dodd establishment needed many more instruments than they were able to produce in a quarter. He needed more instruments, thus leading us to the why French violins were imported into his shop. We have a turn of the 19th century French violin with a T. Dodd label. The violin is well made and is typical French for the period with black chamfered painted edges and all the correct arching and lines. It is interesting that Dodd did not acknowledge the Mirecourt, France maker or firm anywhere in the instrument. The varnish is a muddy orange/brown – not as transparent as it could have been. But the color and transparency are not as important as the elasticity and adhesiveness of varnish to help add to the tone. Elasticity is perhaps the most important varnish quality to assisting in having a great sounding violin. This violin has it! The violin has been totally gone over here in our workshop and received a new camber of the fingerboard, set of pegs, bridge, soundpost, and overall tune up. The violin is well made, lightweight, and most of all, the sound is outstanding!
Corpus 357.0 mm., Major Width 206.0 mm, Minor Width 166.0 mm., Rib Height 30.0 mm
The violin has a fantastic response, almost immediate. The instrument has richness and warmth that rivals violins in a much higher price range. The sound is powerful while still retaining a beautiful maturity. In short, the sound is outstanding! The treble side is clear and brilliant, but not overly bright. It is clean and the sustain is over the top nice. Did I say I love playing on the instrument. Yup, this is a fantastic violin for any fine player. An older French violin made for an English shop that has over the top sound, sound, and sound.