FLORENTINA – Gorgeous German Violin 1927
$6,800.00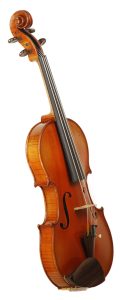 click picture to enlarge
We have a splendid Florentina German violin that is a gem in every way. The violin is modeled after a Guadagnini pattern. This violin, and others like it, were brought into our country by Carl Fischer of New York. The instruments were considered trade instruments but certainly on the higher end representing remarkable value for the 1920s. The workmanship and varnish work and detail in carving of the plates are altogether artistic. Carl Fisher came to America from Germany long before World War I and brought his love for string instruments too. He was a string repair man and restorer of violins in his shop. He had one section of his store devoted to fine string instruments and his workshop and another area dedicated to music publishing and sheet music. The instruments he imported were of noted quality from his homeland even though that bear no evidence of being from Germany. This I'm sure was done on purpose and was the sign of the times. The Florentina violins were graduated correctly and scientifically, according to the density of the wood. Our violin is an instrument with no issues and in very good condition. The varnish is stunning, being a deep orange/brown oil varnish on a gorgeous golden base. The varnish is slightly shaded in areas and typical of fine varnish work of the 1920's. The woods are over the top nice with the spruce top having fine straight grain that broadens towards to outer flanks. The two-piece maple back is better than spectacular in medium-width flame and a slight descent from the center seam. Even the ribs match to a tee and the neck and scroll stand out too. The violin has a new set up in rosewood and in my book is a standout in construction, playability, wood selection and sound.
• Corpus 360.00 mm.
• Major Width 207.0 mm.
• Minor Width 169.0 mm
• Rib Height 29.5 mm.
The minute one of our staff began playing the violin I stopped him and said, "We won't change a thing!" Wow! The sound was amazing. The bottom end is powerful and deep with tremendous overtones. The responsiveness of the instrument is fantastic and the overtones ring making the instrument come alive. We loved the sustain and the maturity of the violin. It was gorgeous just like the look of the instrument. The treble side pops too and has brilliance with a clarity to the pitches. The sound is consistent throughout the four strings and the tonal quality makes this instrument stand out on its own. It's an almost 100 year old violin that will not be in our showroom long.