Ákos Balázs 16" Viola Budapest 2023 – Gorgeous Sound!
$6,000.00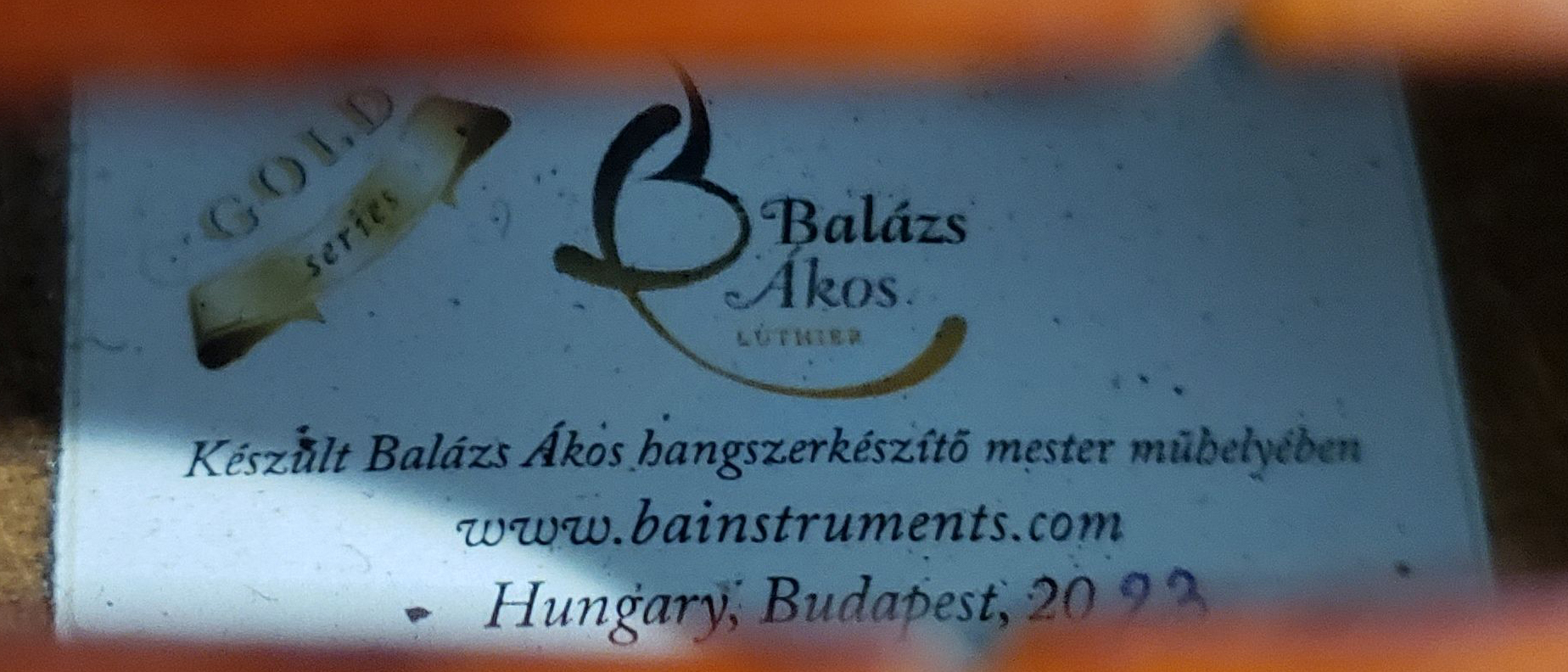 click picture to enlarge
We are always looking for great sounding instruments, especially violas. We found another from maker Ákos Balázs of Budapest. Ákos makes violins, violas, and cellos and was born in 1975 in Salgotarjan, Hungary. He initially planned to follow in his father's footsteps and become a metallurgic engineer while studying at a Hungarian metallurgic college. As a young man he developed an immense attention to detail and meticulous precision, qualities that would later serve him well as a luthier.
Ákos came to America and studied business and economics at Citrus College in Glendora, California. While there he had the opportunity to meet John Peterson, an instrument maker whose knowledge and innovative ideas on plate tuning compelled him to fall deeply in love with the craft of instrument making. Under John's guidance Ákos gained invaluable insights and his passion for the art flourished. In 2003 he returned to Hungary and began his formal study of luthiery at the Liszt Ferenc Zeneakademia in Budapest. There he was mentored by esteemed Hungarian luthiers Laszlo Nemessanyi and Janos Hejja. Under their tutelage he developed his skills and expertise in the craft.
Now at his workshop he strives to create instruments that are as close to masterpieces as possible, utilizing excellent tonewoods and working by hand. Ákos strives to blend exquisite craftsmanship and sound with accessibility. Great detail and care went into this instrument. The edges and corners are precise and the plates symmetrical. The edges have a beautiful slope and workout at the purfling up to the crest, the wings have beautiful detailed work out, the scroll lines are precise, and the wood choice for the instrument is a wow. The varnish is a deep transparent orange/brown on a golden ground.
Corpus 405.0 mm., Major Width 235.0 mm., Minor Width 192.0 mm., Rib Height 35.0 mm., Vibrating String Length 372.0 mm.
This is a beautiful instrument to play, very responsive, rich, and velvety smooth. There is plenty of power and a satisfying resonance. The sound has this nuance which is slightly woody in character. The tone is very consistent, wonderful to perform on because of the teeming overtones and strong sustain. I fell in love with the G string sound as it is over-the-top gorgeous and all-in-all this will make an excellent performance viola. I dared to be aggressive on the instrument and it can handle the weight. Currently set up with Evah Golds, the viola will put a smile on your face when you play it and it's easy to handle.