¾ Size Lowendall Workshop Violin, Circa 1890 – Great Sound! – SOLD FEBRUARY 8, 2022 –
$2,000.00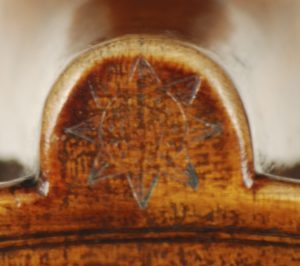 click picture to enlarge
Label reads:

Joseph Guarnerius fecit
Cremonae anno 1723
We have a very nice Louis Lowendall workshop violin patterned after a Guarneri model made over 100 years ago. The violin was made in Germany at the turn of the century and has strong sound for a fractional ¾ size instrument. Lowendall was a successful businessman, luthier, and all-around entrepreneur of his day. In 1885 he established the Lowendall Star Works violin brand and sold instruments and bows made by outstanding journeymen and apprentices that he found and hired who also became masters, such as Heinrich Knopf. Lowendall exported instruments and bows to the U.S. where he made many business connections in fine violin shops along the east coast. The most noteworthy relationship was with the fine George Gemunder firm in New York City. This violin was made in his Dresden workshop and at some time in the late 19thh century made its way to America. It displays the Lowendall Star Works logo branded on the tongue found on the back of the violin. The instrument is antiqued and has the traditional amber/brown varnish with a hint of orange throughout. We have restored the violin in our workshops. It is in very good condition and received a new set up: nut, set of ebony pegs, new bridge, and sound post.
Corpus 355.0 mm., Major Width 205.0 mm., Minor Width 168.0 mm., Rib Height 30.0-30.5 mm.
Yes, the violin look is classic, but the sound is even better. It has a deep, rich, full sound that lays very well. The G and D strings are powerful and highly responsive while still retaining a warmth to the sound. The treble side is strong too, but not too bright. The E and A responded nicely off the strings. The sound is slightly darker, as you might expect from an older violin. This is a terrific instrument for the up-and-coming player. A perfect match for the person starting to get serious and needing a ¾ size violin that delivers.