Vuillaume a Paris, High Grade Mirecourt Violin – Circa 1890's – Gorgeous Sound! – SOLD 8/12/22
$4,000.00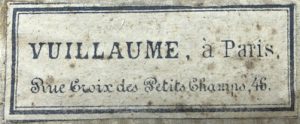 click picture to enlarge
Labeled:

VUILLAUME, à Paris
Rue Croix des Petits Champs, 46
This is a gorgeous first class Mirecourt violin. This violin is from the late 1800's and it is in particularly good condition with no issues. Mirecourt is known for its violin making trade and is located in the Vosges region of France. Mirecourt is about 180 miles east of Paris and established itself as the place in France to learn the art of violin and bow making starting in 1620. Its heyday was from the early 1730's up to and through the 1930's; a guild was established to adhere to high standards and uphold the highest quality of instrument making. Jean-Baptiste Vuillaume ranks among the most important European violin makers and came from a well-established family of makers. Our violin was made in Mirecourt, the same town where J-B Vuillaume was born and raised, and where he studied violin making up to the age of nineteen. This violin is a genuinely nice French copy with no known maker brand or maker name on the inside label. The non-descript Vuillaume label is correct in its age after the death of J.B. Vuillaume. Many copies were made using this exact Vuillaume label in the late 1800's and early 1900's. The instrument is made in an almost grand pattern, slightly larger in is length and rib height. The violin has a tight grain spruce top plate at the center seam that broadens towards the edges. The two-piece maple back is exquisite in flame along with the ribs, neck, and scroll. The arching is well executed on both plates, clean sound holes are cut very well, and the purfling is all hand done with delicate bee sting corners. We have bushed all eight holes, added a new ebony fingerboard, and completely gone over the instrument inside and out with a new set up. The varnish is a golden amber/brown on a golden ground with a hint of orange hue. This is a gorgeous violin that has impeccable tone and richness of sound to match the beauty of the woods an experienced maker selected to make this instrument.
Corpus 360.0 mm., Major Width 210.0 mm., Minor Width 170.0 mm., Rib Height 31.5 mm. (String Length is 3-4 mm. longer than standard)
The sound is over the top nice. The instrument has a powerful and radiant voice on all of its strings. It has personality and presence which do not hold back. The core of the violin, which I liken to the d and a strings, have the same response and clarity. The sound is magnificent and ready for a serious player.