Virzi Violin – #2961, New York, NY 1925 – In Beautiful Condition & What a Sound!
$6,000.00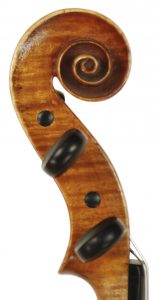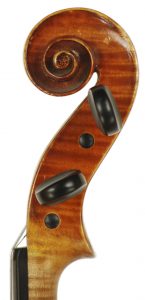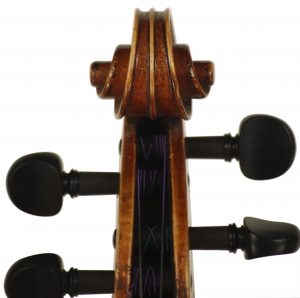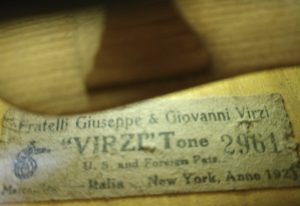 click picture to enlarge
Label Reads :

Fratelli Giuseppe and Giovanni Virzi
"Virzi" – Tone 2961
U.S. and Foreign Pats.
Marca Reg. – -Italian – – New York – Anno 1925
The brothers Giuseppe and Giovanni Virzi were born in Palermo, Italy, and they settled in New York City in 1913. They created what they called the Cremona Sound and developed a "tone producer" which attached to the bass bar which they stated, "magnifies the tone and enhances sustain". The Virzis became well-known as a New York company and introduced a patent for the "tone producer" along with a 32-page catalog that was printed in 1923. One of their violins and a copy of the catalog resides in the National Museum of American History in Washington, DC. The Virzi brothers won first prize for World Progress in Musical Construction in 1925 at the International Congress for Instrument Makers in Rome.
Our Virzi violin, made in New York, is the real thing. The violin contains the tone producer and is in good to excellent condition, there are no issues. The carved scroll is distinctive with the fluting on the back of the scroll very square, nothing rounded. The volutes in the scroll protrude out ever so slightly more than a normal Strad pattern scroll. The instrument does have the standard Strad pattern sound holes, and the instrument features a stunning one-piece maple back with over the top beautiful figured woods for the ribs and scroll. The varnish, all hand drawn, is deep with orange-brown lighter and darker shaded areas all on a golden ground. We have given the violin a complete new set up. This means a new ebony fingerboard, a new nut, and a new set of ebony pegs. We have also cut a new bridge and sound post for the violin as well as adding a new tail piece and end button.
The sound is satisfyingly full and rich with the low strings generating a slightly covered sound. The sustain is beautiful, very pleasant to listen to. The overtones are rich and a player will feel the instrument pumping, creating a mature and bold sound. The treble side compliments the richness of the bass strings as they ring with a clear presence and hold back just a little to not be too bright. The instrument has a great tonal center which is evident even up in higher positions. The instrument is ready for a serious player and looks as good as it sounds. The Italian-American origin and historical significance also make this violin a real gem.