ROSA WORTHAM SUPERIOR – Model 800 Violin
$1,790.00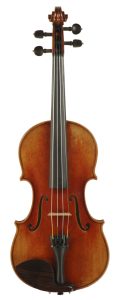 click picture to enlarge
This a beautiful violin that features carefully carved arches in the plates, precise modeling to the Guarneri pattern, and a beautifully flamed back, ribs, neck, and scroll. The spruce top plate is made of a tight grain spruce which is exquisite. This is a professional level instrument with corners and the purfled bee stings that are better than well done. The violin bodies are handcrafted and made for J.R. Judd Violins, LLC, in a small workshop in the city of Suzhou. The detailed carving of the plates along with the instrument set up completed here at our shop is done to get the best possible sound. In our workshop we have cut the fittings in ebony, carved a 200-year-old Despiau B grade maple violin bridge and sound post . This fine set up work always makes a difference. The oil varnish is slightly antiqued giving the violin an older look.
Corpus 354.0 mm – Major Width 205.0 mm – Minor Width 167 mm – Rib Height 29 mm
The instrument has a gutsy sound that is full and robust. The sound simply pops. It is focused and muscular, which is different from sheer power; it has character. The sound warms up as soon as you start moving up into positions. The response off the strings is noticeably quick. A player will also enjoy the overtones and brilliance of the E & A strings. The instrument speaks well with a light touch from the bow and speaks well when a player really lays into the violin. The instrument is a great choice for a player getting serious about their violin.