Rosa Wortham Il Scuro Violin – Great Sound! – CURRENTLY OUT ON TRIAL –
$2,300.00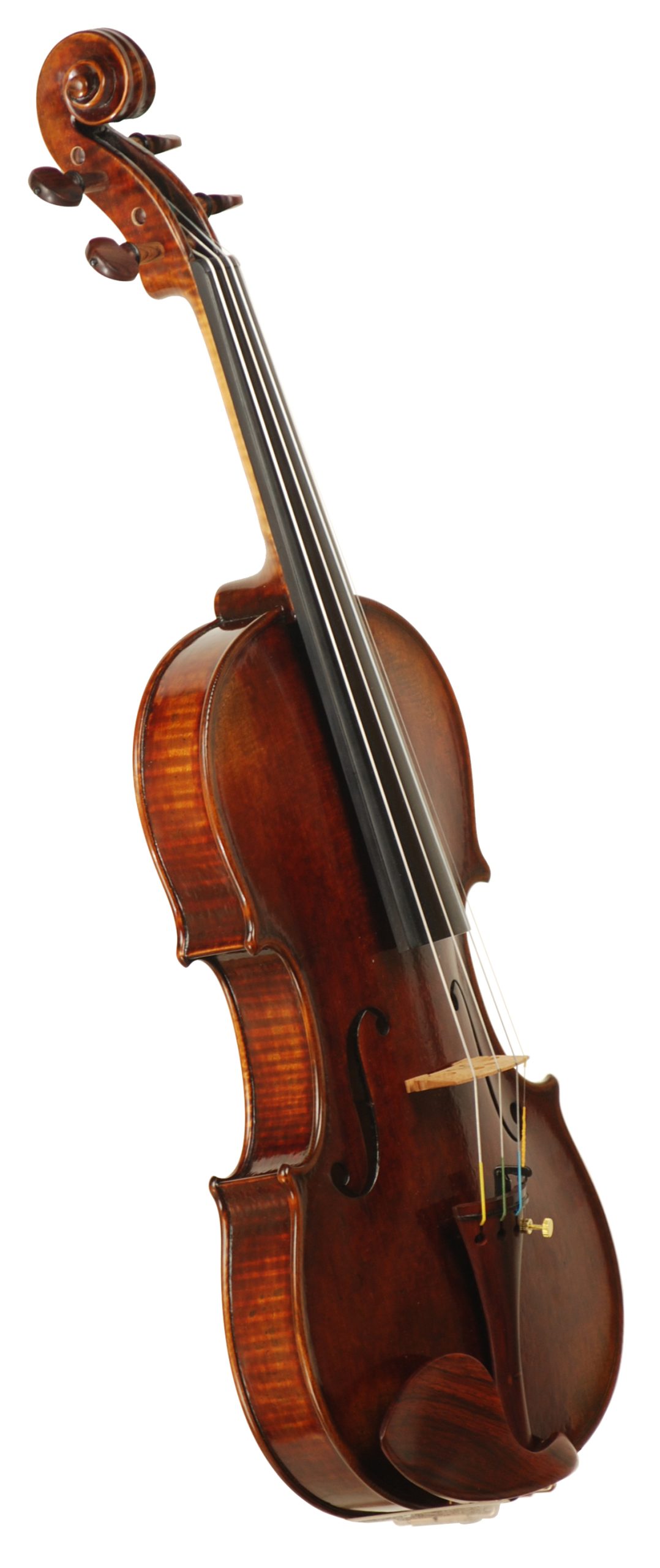 click picture to enlarge
Concert Series 905 Model
Handmade in China for J.R. Judd Violins 2022
Rosa Wortham (1903-1972) was a fine violin player and teacher in New York City. She made it a point to perform and teach. She played with many chamber ensembles and her real love, opera and opera orchestras. She also played with the Staten Island Symphony Orchestra and summers at Camp-of-the-Woods in upstate New York. Rosa was a lifetime player owning two violins, a Lupot and her favorite, a Matteo Goffriller 1700 Venice. The Wortham Il Scuro is an outstanding Guarneri model violin for a serious intermediate level player and a cousin to the Rosa Wortham Model 300 violins. The Scuro has a beautiful darker varnish and more carving details in the scroll and in making the plates. The deep dark orange/brown oil varnish sets this instrument apart, along with the choice of woods. The maple curl in the back, ribs, and scroll stand out. The violin is light in weight and fitted with rosewood for the pegs, chinrest, tailpiece, and end button. We have meticulously carved all of the fittings here in our workshop, and this is a fine violin with no issues.
Corpus 356.0 mm., Major Width 208.0 mm., Minor Width 167.0 mm., Rib Height 29.0 mm
The tone is deep, full bodied, and the sustain is noticeable. The sound is inviting, and it takes no effort to produce a gorgeous responsive sound. The bass sound is only slightly edgy, which is very good for the overtones, and yeh! – does it sing out. The treble strings have this same responsiveness with an added brilliant sparkle in the tone. There is no holding back this instrument. It has it the sound qualities you usually only find in instruments two or more times the price. This is a great find for the player not looking to spend $4-5K. This craftsmanship is at a high level and the sound matches in its complexity.