Mathias Hornsteiner – Mittenwald Trade Violin Circa 1880s- Great Sound!
$2,950.00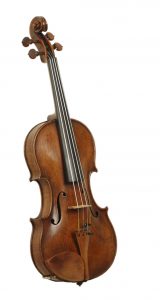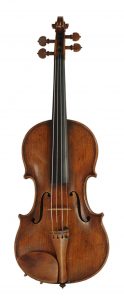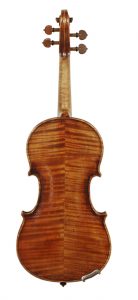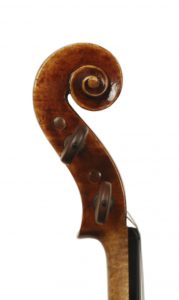 click picture to enlarge
Bears the label:
Mathias Hornsteiner Geigenmacher
Hotschmied in mittenwald an der Iser
Anno 1872
Beautiful older German trade violin labeled Hornsteiner with a typical 1872 label. This Strad model trade instrument was made before the turn of the 19th century in Mittenwald, Germany. It has a moderately flamed two-piece maple back with a medium-width grain two-piece spruce top. The orange/brown varnish was applied by hand on a golden ground. The instrument is in great condition with no issues. It has been fitted with in English boxwood to give the instrument a very fine look.
Corpus: 355.0mm, Major Width: 205.0mm, Minor Width: 166.0mm, Rib Height: 31.0mm.
Mr. Judd really likes the powerful yet charming sound of this violin. It speaks easily with a clean and clear sound. The G & D strings have some guts that transfer through the treble side while gaining some brilliance. Each register has a noticeable sustain and the violin is simply fun to play. The tonal qualities will attract both orchestral players as well as serious fiddlers. The old-world look of this violin is a knockout and is well worth its price tag.