Markneukirchen Trade Violin – circa 1930 – SOLD 3/2/2023
$1,550.00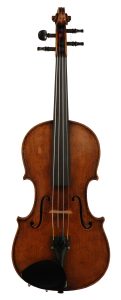 click picture to enlarge
Label: (text inside of an oval)

Approved By
Andreas Schroetter
Markneukirchen/Sachsen
We have a beautiful German trade violin which is close to 100 years old. The instrument is well-made and is indeed a Stradivarius model. The town of Markneukirchen was the hub of German violin making for hundreds of years. Instrument and bow production were measured in tons of freight crated onto trains to then ship out to the West via the North Sea. Even to this day the area is still an important area of instrument making. The back, ribs, neck, and scroll are all made from beautiful flamed maple specie. The spruce top plate has a straight grain which is narrow at the center seam and broadens toward the edges. We have meticulously gone over the violin in our workshop and cut all new fittings. The instrument has much hand work and features an ebony crown on the back heel of the neck. The instrument has a classic look and there are no issues with the violin.
Corpus 358.0 mm., Major Width 206.0 mm., Minor Width 167.0 mm., Rib Height 30.5 mm
The sound leans toward the darker side and the instrument has a gutsy but gorgeous bottom. The G & D strings ring full and are slightly meaty in their tone. The sustain on the low strings is also a huge plus. The treble side also has excellent projection of sound. The treble strings sing with clarity and have plenty of power. This is a well-made Strad model violin with European quality at an affordable price.