Mark D. Moreland, Stradivarius Model Violin – Portland 2001 – Great Sound!! – SOLD MAY 20, 2023 –
$16,000.00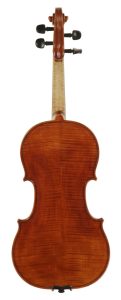 click picture to enlarge
Label:

Mark D. Moreland
Luthier (signed over the word Luthier)
Portland, Oregon 2001
Mark has been a violin maker and restorer since 1975. He worked under Paul Schuback in Portland, Oregon for three years as an apprentice. Having a violin performance degree, Mark also pursued performing and teaching. By 1980 Mark had become the shop foreman for the Schuback shop. I got to meet Mark at Eastman Strings in 2003 when he came to work for the Eastman Strings Company in Clarksburg, Maryland. He trained and oversaw all the workers doing wood graduations, finishing, and tonal set-ups. Mark has returned to the Pacific Northwest, opening his own shop in Battle Ground, Washington.
The violin is in excellent condition with a two-piece highly flamed maple back plate and a two-piece spruce top of 1.0 mm wide grain that is very consistent. Mark's attention to detail is also evident in the great care in choosing the woods for the violin, even more in creating the instrument; the scroll work, the arching of the plates, and purfling work stands out- so clean on this Stradivarius model violin.
Corpus 355.0 mm., Major Width 207.0 mm., Minor Width 168.0 mm., Ribs 31.0 mm tapering to 30.0 at the neck
I was taken aback right away from the sound of the instrument and the fantastic response off the strings. The sound is outstanding. The tonal strength is felt throughout all the voices. I love the power and sustain found on the bass side and then I moved into the mid-range of the A&D strings and also went Wow! The strength is warm and inviting and a player will enjoy the clarity and ring of the E string high up into the positions. This violin lacks nothing and is ready for a serious player looking for their concert violin.
C