J.T. L. – Beautiful French Violin, circa 1900 – SOLD – SOLD -SOLD- JUNE 24, 2021 –
$3,000.00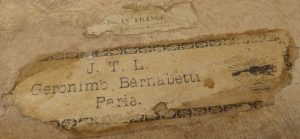 click picture to enlarge
Label Reads:

MADE IN FRANCE
J. T. L.
Geronimo Barnabetti (JTL insignia)
Paris
This violin is from the historic French violin making area of Mirecourt. The renowned shop Jérôme Thibouville-Lamy (J.T.L.) was in Mirecourt, France. Paris sounds nicer, which is on the label, but is about 185 miles west-northwest of Mirecourt. Mirecourt became known for the huge number of instruments made and the extraordinary accuracy in building instruments. It was the hub of French violin making and the training of luthiers. If you desired to be a violin or bow maker you would have traveled to this area to find a job as a journeymen apprentice, devoting 3-7 years perfecting your craft.
Our violin is in very good condition and was made in the early 1900's. The instrument has a one-piece maple back that carries with it a slight water (mineral) stain, almost like a birthmark on the back lower quadrant. It is distinctive and has no adverse bearing on the sound or even the appearance of the instrument.
The sound is quite impressive. The lower strings are rich and lush to the ear, very warm and inviting. One of our apprentices said warm and rounded – not harsh at all. The E & A string voices are beautiful too. The treble strings have a gorgeous sound and are impressive in tonal color. The strings are not too bright but give a very sweet sound. A player will fall in love with this 100-year-old French violin for many reasons: it's easy to play, light as a feather, and golden in sound. It is a must try at the three thousand price point.