J. Lavest 1927, Guadagnini Model Violin, Mirecourt No. 814 – CURRENTLY OUT ON TRIAL –
$5,600.00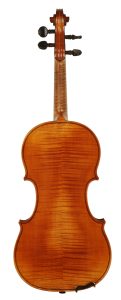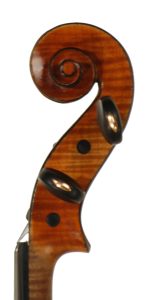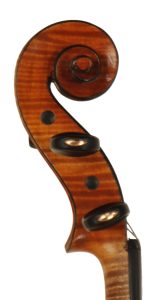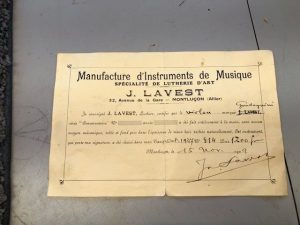 click picture to enlarge
Label:

Johann Baptista Guadagnini
fecit Parmae ferviens
C S R 1741
Sold with Certificate for the violin from Lavest's workshop in Montluçon
J. Lavest established a workshop in Montluçon and was active as a dealer in the violin market more than as a violin maker. Many of his violins were made by journeymen in the Dieudonne workshop and lesser instruments were fabricated in the Marc Laberte workshop of Mirecourt. The fine grained spruce top and gorgeous curly maple back is outstanding. The choice of wood for the neck and scroll match to the same degree of curl which is off the charts, Wow! The arching is graceful and slightly higher than a standard Strad model, lending to the strength of sound. The condition of the violin is outstanding with one little blemish in the varnish on the top plate bass side adjacent to the neck. The golden varnish is brilliant in color and clarity. In the workshop we gave the instrument a new setup: bridge, soundpost, pegs, tailpiece, and end button. The fittings are rosewood, which give a nice contrast to the golden hues of the varnish. The violin looks fantastic as it is nearly 100 years old.
Corpus 352.5 mm., Major Width 203.5 mm., Minor Width 166.0 mm., Rib Height 31.0 mm.
The sound on this instrument is rounded, not harsh. The bass side is focused and powerful. This is an instrument that could help lead an orchestra section. The response off the strings is quick. The treble side is brilliant and speaks well with clarity and power. The sound is refreshingly clean. I love the E string with its vibrant energy and unique voice. A player will feel this instrument pump. The violin has plenty of power and a good player will be able to control the strength of volume. This instrument is beautiful to look at and has the sound to match. It will be a great fit for the player looking for a violin slightly smaller than the traditional Strad length of 355-356 mm. It is a great find for the up-and-coming serious violinist.