Gorgeous TIM Violin – Mittenwald, Germany circa 1920's – Fantastic Sound! – SOLD DECEMBER 10, 2022 –
$4,000.00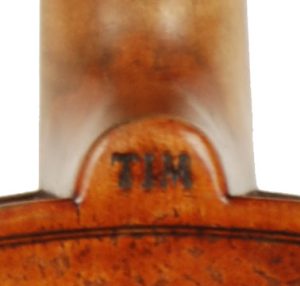 click picture to enlarge
The firm of TIM-Geigen was based in Vienna. TIM stands for Ton-Instrumente-Markstein; Markstein, an engineer, developed a treatment for tonewood and trademarked his instruments. The TIM-Geigen violins endeavored to reproduce the sound of old instruments through a special process that would reshape the structure of the wood cells. However, the instruments were made in Mittenwald, Germany. Mittenwald was the famous German hub for old world violin making. This area was made up of small shops that outproduced in fine violins the makers in and around Markneukirchen. Our instrument is in excellent condition and is enrobed in an orange/brown varnish on a golden amber/brown base. Tasteful antiquing was added to the instrument to give it a certain older look- very well done and the instrument bears the TIM brand on the button.
Corpus 357.0 mm., Major Width 204.0 mm., Minor Width 167.0 mm., Rib Height 30.0 mm.
The company was a success as a whole and our TIM violin has a rich, mature sound. The sound stands out. The tone is gorgeous, sustains, and is smooth like rich chocolate. The sound is immediate and the response lively when touched with a good bow. The sound is outstanding on all voices. This is a WOW in my book! I call these sleepers. A fantastic sounding violin for a special trade instrument almost 100 years old.