German Workshop Violin, Amati Model – One Piece Back, circa 1910
$2,100.00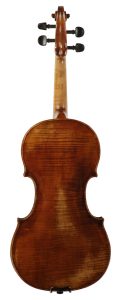 click picture to enlarge
Label reads:

David Dehler fecit
Roma Anno 1718
We are offering a beautiful restored Amati model violin that has very good bones and structure. Many workshops in this era placed labels in instruments with names and dates that tried to confuse and deflect the instrument's origin. In our workshop we have meticulously gone over the instrument cutting a new set of pegs, cambered the fingerboard, nut, bridge, soundpost, tailpiece, and chinrest. The violin has great lines with a nice length, making the violin easier to play. There are no issues with the instrument. The back is one-piece maple, medium-width flame with matching ribs. The spruce table has grain that is straight, and the amber/brown varnish has some patina along with natural wear.
Corpus 355.0 mm., Major Width 205.0 mm., Minor Width 165.0 mm., Rib Height 29.0 mm.
The sound on the G & D strings is warm and inviting. The bottom end is responsive and puts out a rich tone, especially when I used a bow in the area of 61.2 grams and above. A light gram weight bow did not work as well. The treble strings have a refreshing sound – not too bright and responded well. The sound leans to the darker side in color. The instrument will do very well for a player looking for a more complex sound and nice response.